Torrance, Assault with Deadly Weapon (Knife), Probation
Our client, age 22, and his brother, age 20, drove to a Torrance park close to their home to find a male who had been "mad dogging" them earlier in the day when the brothers were working in their garage with the door open. The male who "mad-dogged" them had walked by their house, which was close to the park, and stood outside in plain view of the brothers in the garage, making gang signs. Our client and his brother were confused by the other man, who was Hispanic, seeming to believe our clients had done something to anger him.
In a Nutshell: Torrance, assault with a deadly weapon (knife), resolved for summary probation involving 30 days of Cal-Trans, 20 anger management classes & $875 fine.

When our client and his brother located the male, a suspected gang member, they approached him and asked him why he had been "mad dogging" them. The male responded with expletives, telling our client "you know what you did, you $%#@+."
Instead of walking away, our client and his brother felt challenged and they were not going to back down. Our client's brother then attempted to hit the male in the face, but missed. When the male tried to hit our client's brother back, our client took out a knife and swung the knife in a side to side motion to cut the male. Although our client missed, other males ran to rescue the suspected gang member. Our client and his brother then ran back to their truck and drove away. The entire incident lasted perhaps ten seconds.
Apparently, someone who saw what happened called the police because the Torrance Police Department came to our client's house and questioned our client about the incident at the park.
Our client explained that the suspected gang member had been loitering in front of his house and said several rude things to his mother. Our client also told the officer that he believed that the male was connected to recent burglaries in the neighborhood. The officers decided to arrest our client and his brother after the male from the park positively identified our client and his brother as the "attackers."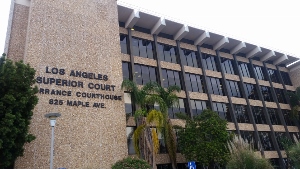 Torrance Superior Courthouse
Our client was charged with: 1) Drawing or Exhibiting a Knife (Penal Code Section 417(a)(1)), a misdemeanor; 2) Assault with a Deadly Weapon (Penal Code Section 245(a)(1)), a misdemeanor; 3) Concealing a Deadly Weapon and Engaging in any Fight (Torrance Municipal Code Section 45.5.5), a misdemeanor; 4) Attempt to Commit a Violent Injury to a Person (Penal Code Section 240), a misdemeanor; and 5) Fighting in a Public Place or Challenging Another in a Public Place to Fight (Penal Code Section 415(1)), also a misdemeanor.
Our client initially opted for representation by the public defender, but she quickly told him that the best deal he could hope for was two years in state prison (this was simply wrong, as misdemeanor convictions do not involve prison, but jail) The public defender also refused to listen to our client as to the full factual context of the incident and never visited the scene.
Our client then hired Greg Hill & Associates. Greg Hill went to the scene with the client and his brother and reenacted the altercation, taking photographs which showed the police report was unreliable and simply false in certain respects. Greg Hill then showed 8 x 10-inch color photographs of the scene to the DA and explained to the DA how the police report was quite wrong in many respects that made the whole incident factually unclear, which undermined how well the prosecution could explain what happened.
In response, the DA agreed a plea bargain wherein the prosecution dismissed all charges except the fighting in public charge on condition that our client plead no contest to this and complete 30 days of Cal-Trans work, 20 weeks of anger management classes and pay a fine of $200 plus penalties and assessments (total was $875). He was also placed on three years of informal, or summary, probation.
Had our client fought his case at trial and been found guilty, he faced a maximum of three years in county jail.
For more information about the issues in this case summary, click on the following articles:
Contact us.