Three Cases of Driving without Insurance in LA, Two Dismissed
Our client had an incredible run of bad luck. In the span of three months, he received three tickets for driving with expired registration (Vehicle Code § 4000a), as well as other similarly minor violations.
The tickets listed a total of nine Vehicle Code violations for unsafe lane change (Vehicle Code § 21658), driving across double yellow lines (Vehicle Code § 21651), not wearing a seat belt (Vehicle Code § 27315d) and failing to show proof of insurance (Vehicle Code § 16028).
Overview: Metropolitan Court, three cases of driving without insurance and six additional charges, two cases fully dismissed, case resolved for $100, savings to client of over $9,000 in fees and fines.

The mechanical condition of our client's car prevented him from receiving his smog certificate, so renewing his registration was difficult. After each ticket, he took his car to the mechanic, who was unable to fix the car's exhaust system and thus, our client knew he might soon get another expired registration ticket because he could not pass the smog test (the DMV will condition one's renewal of the vehicle registration upon showing passage of a valid smog test). The only option for him was to sell the car to avoid all the tickets, but that was too expensive, or so he thought.
As it turns out, with the fines and fees associated with such tickets, the counter-intuitive solution of just buying an inexpensive new car actually would have been less expensive.
The client also lost the tickets when he took the car to the mechanic, so he repeatedly failed to appear in court, a violation of Vehicle Code § 40508. The tickets were then sent to collections and bench warrants were issued for his failure to appear in court.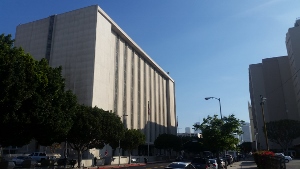 Metropolitan Superior Courthouse
Our client was aware that this was probable, so he called the Metropolitan Court traffic clerk several times to get to the bottom of things, pay the tickets and keep his record clear. Each time, the court clerk was unable to even find one of the tickets using our client's name, driver's license and date of birth. It was very frustrating. Mystified, our client finally concluded that the court had truly lost the tickets. However, collections certainly had the information and they sent him several dunning letters. It appeared that he was being asked to pay for tickets that did not exist.
Over six years later, our client applied for a new job. The potential employer did a background check and found that he had several bench warrants out for his arrest arising out of his failures to appear on each of the tickets described above. They advised him of this, and the client then called our office.
Our office prepared a Motion to Dismiss for Violation of Defendant's Due Process Rights to a Speedy Trial in each of the three cases. Such a motion is based on the federal and state court right to a speedy trial on a misdemeanor or a felony case. In the misdemeanor context such as for our client here, defendant must be arraigned within one year of the case being filed or else there is presumed prejudice to defendant constituting a violation of his or her Sixth Amendment right to a speedy trial.
Serna v. Superior Court
(1985) 40 Cal.3d 239, 707 P.2d 793, 219 Cal.Rptr. 420.
After all, our client was never served with the warrants or even mailed a notice concerning his need to appear. Since the cases were filed as misdemeanors and the client faced the possibility of incarceration, his Sixth Amendment right to a speedy trial applied.
The City Prosecutor, after being served our Motion to Dismiss, offered to resolve all three cases for a plea from our client to failing to appear and a $100 fine, plus penalties and assessments ($400), if we would take our motion off calendar. Our client accepted this offer because if the motion was denied, he would face fines of approximately $9,500. This plea bargain saved our client about $9,000, which he was quite happy with.
For more information about driving without insurance, click on the following article:
What Punishment Do I Face for Driving without Insurance?

Contact us
.