Thirteen Year Delay for SVP Trial Unconstitutional?
The Gist of this Article: A thirteen year delay for an SVP trial was an unconstitutional deprivation of defendant's due process rights and his habeas corpus petition was granted, which resulted in a court ordering his release.

In 1993, Terrence Butler was convicted in Alameda Superior Court of raping two women and assault with intent to commit rape of a juvenile. He was sentenced to 18 years in state prison.

Prior to his release in November 2006, the Alameda County District Attorney filed a petition to commit Butler as a sexually violent predator (SVP) under the Sexually Violent Predators Act (SVPA) (Welfare & Institutions Code § 6600, et seq.). The petition alleged that Mr. Butler had been convicted of five sexually violent offenses within the meaning of section 6600, including a 1991 rape and three 1992 rapes and a 1992 assault to commit rape. The petition further alleged that Mr. Butler suffered from a diagnosed mental disorder and posed a danger to the health and safety of others within the meaning of the SVPA.
For the first year after the petition was filed, Mr. Butler was represented by Assistant Public Defender Clif Taylor. Mr. Butler appeared at the first four court appearances, including the probable cause hearing held in January 2007.
In December 2006, Butler sent two letters to the assigned judge, the Honorable Joan S. Cartwright. The letters acknowledged that he supposedly had waived time for his SVP trial upon the advice of counsel and to get treatment, but he never gave his attorney such consent. What he really wanted was to go home to his kids. The letters went on to describe his rehabilitation at length.

At the probable cause hearing, probable cause was found and he was ordered detained at Coalinga State Hospital pending trial.

Mr. Butler then wrote the public defender's office that he did not want them to waive time on his behalf and that he wanted a trial as soon as possible.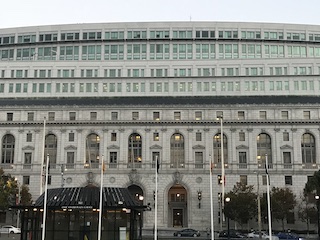 Court of Appeal First Appellate District San Francisco
However, Mr. Butler remained confined to Coalinga for 13 years awaiting trial on his SVP petition, during which time eight public defenders and six prosecutors cycled through. Three trial dates were set and vacated and more than 50 continuances were granted without a single objection raised by opposing counsel or a finding of good cause made by the trial court.
More troubling, there was no evidence that any of Mr. Butler's public defenders ever consulted or retained a defense expert in this matter and the prosecution never declared that it was prepared to go to trial or that a trial date be set.

After the public defender declared a conflict in January 2019, Mr. Butler retainer private counsel who filed a petition for writ of habeas corpus. The motion was heard in a separately assigned "habeas court" (not the trial court) in Alameda Superior Court and the judge found that Mr. Butler's right to a timely trial had been violated and that the public defender, district attorney and trial court for the SVP trial all bore some responsibility for the "extraordinary" delay.
The habeas court granted Mr. Butler's habeas petition, dismissed the SVP petition and ordered Mr. Butler's release.

The prosecution then appealed the order to the First Appellate District, arguing that it had no affirmative obligation to bring a person to trial on an SVP petition and that the habeas court erred by failing to attribute to Mr. Butler the entirety of the delay in the matter.
The First Appellate District Court disagreed, pointing out that because involuntary civil confinement (if one is found an SVP or probable cause is found for an SVP petition) involves a substantial deprivation of liberty, an alleged SVP defendant is entitled under the due process clause to a trial at a meaningful time and in a meaningful manner.

The appellate court acknowledged that the SVPA does not delineate a timeframe within which a trial must be held once a court has found probable cause to the sustain the SVP petition and that the SVPA is a civil proceeding, not a criminal proceeding to which the Sixth Amendment right to a speedy trial attaches.
Nevertheless, civil commitment for any purpose constitutes a significant deprivation of liberty that requires due process protections and therefore, the pretrial confinement of an alleged SVP is subject to the due process protections of a timely trial.
The First Appellate District's opinion (2020 DJDAR 10876, In re Terrance Butler) is then a scholarly review of many cases involving lengthy delays in a non-criminal contexts that really should be reviewed for its content.
The citation for the First Appellate District Court ruling discussed above is In re Terrance Butler (1st App. Dist., 2020) 55 Cal. App. 5th 614, 269 Cal. Rptr. 3d 649.

For more information about SVP issues and speedy trial rights, please click on the following articles: