Texting While Driving with Accident – Beware of a Civil Case
The Reader's Digest Version: If one faces a criminal case for reckless driving resulting from a car accident while texting, do not plead guilty – plead no contest with a People v. West waiver. The criminal case may not be the only case. A civil negligence action with a lower burden of proof and the recovery of punitive damages may also arise out of the same car accident.

On December 8, 2013, Milton Olin was riding his bicycle in a dedicated bicycle lane when he was struck from behind and killed by a sheriff's deputy. Records showed that just before the deputy's vehicle entered the dedicated bicycle lane, the deputy had been texting.
The National Highway Traffic and Safety Administration (NHTSA) reported recently that in 2014, 3,179 people were killed and 431,000 people were injured in motor vehicle accidents involving distracted drivers. About three times as many people were killed in the same year in DUI related accidents.
While DUI and distracted driving are different on many levels, the effects of alcohol have similar effects on the attention of a driver and for this reason, personal injury attorneys are keen to file civil lawsuits seeking punitive damages whenever there is an accident involving a driver that is texting at the time.
This article is meant to warn the reader to never enter a guilty plea and to avoid a criminal trial at all costs to avoid the collateral consequences of a civil lawsuit arguing that the lower burden of proof (preponderance of the evidence) for liability and for punitive damages (clear and convincing evidence) is satisfied by the criminal burden of proof being admitted or proven in a criminal trial.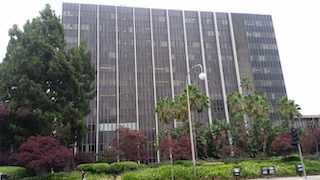 Santa Ana Courthouse
The reasons are multifold. The starting point, however, is to realize that a decent plaintiff's attorney will argue, through an expert witness, that studies show a driver distracted by texting is just as dangerous as a driver under the influence of alcohol. Consequently, if punitive damages can make an example out of drunk drivers, punitive damages would also help make an example of distracted drivers, too.
Punitive damages are authorized under California Code of Civil Procedure § 3294(a) when it can be proven that defendant acted with, among other things, "oppression or malice," which is defined as "despicable conduct that subjects a person to cruel and unjust hardship in conscious disregard of that person's rights" § 3294 (c)(2).
Malice does not require an intent to harm. It can be conduct where defendant acts with "conscious disregard for the safety of others" where plaintiff establishes that "defendant was aware of the probable dangerous consequences of his conduct, and that he willfully and deliberately failed to avoid those consequences."
Taylor v. Sup. Ct.
(1979) 24 Cal.3d 890, 895-896. With all the public awareness campaigns now about the dangers of distracted driving by texting while driving, this is not hard for a plaintiff to prove.
In
Taylor
, plaintiff was injured by a drunk driver. The trial court judge struck the punitive damages claim based on the defense argument that punitive damages could not be pled in a negligence case and that a drunk driver lacked the ability to form the malicious intent to kill. The California Supreme Court overturned the ruling on the motion to strike and stated that a plaintiff could assert a prayer for punitive damages in a negligence action. It stated, "[w]e suggest conscious disregard for safety as an appropriate description of the animus malus which may justify an exemplary damage award when nondeliberate injury is alleged."
Taylor,
at 895.
The analogy to driving while texting and causing an injury is easy to appreciate.
The driver may argue that texting is no different than briefly taking one's eyes off the road to change a radio station, look at a road sign or look for an address on a building.
The plaintiff's attorney will most likely employ an expert who will cite to an NHTSA study that says the average person's eyes are off the road for five straight seconds while texting. This means, at 55 miles per hour, that one's eyes are off the road for more than the length of a football field. But this is just the tip of the iceberg: texting causes "inattention blindness." The person has to decide to look at their phone, read a text, decide to respond to the text and formulate a response, all before reaching for the phone to start texting. Even after the person finishes sending the text, the driver must return attention to the road, even if looking up at the road. It is a distraction "hangover" while re-orienting attention to the road. This entire process can last 20 seconds or longer.
Thus, if one is facing charges of hit and run or DUI with an accident, where texting caused the inattention and the collision, the driver must be vigilant not to convict oneself or create evidence in a punitive damages case by giving time estimates that factor into the expert witness testimony based on the above NHTSA studies. The age-old advice to not speak to the police could be worth millions if such a civil claim seeking punitive damages follows.
For more information about civil lawsuit issues arising from criminal cases, please click on the following articles:
I Face a Civil Restraining Order for Domestic Violence and a Criminal Charge of Domestic Violence – What Should I Do?
Contact us.