Sixth Amendment, Ineffective Assistance of Counsel
It is quite common for our office to receive phone calls from defendants or the family of a defendant about a conviction that took place weeks, months or even years ago and asking if the case can be "reopened" because the attorney for defendant did not do something. The caller may not use the words "ineffective assistance of counsel" (IAC), but this is generally what the call is about.
Brief Synopsis: The legal standard for showing ineffective assistance of counsel (IAC) to have a petition for writ of habeas corpus granted requires petitioner to show two things: 1) the performance of counsel fell below an objective standard of reasonableness; and 2) but for such IAC, the outcome of the case would have been different. The following article explains more about this standard.

Our response is usually to ask more questions about the underlying case facts, the date of the conviction and the status of any appeals or petitions for resentencing or writs of habeas corpus. The answers to these questions usually reveal more issues that are as important or more important than an IAC claim.
During this conversation, we try to remain focused on the reason the caller initiated the call: IAC. We then usually try to clarify that for one to prevail on a petition for a writ of habeas corpus (to have defendant released from custody) alleging IAC, defendant must not only show that his counsel's performance fell below "an objective standard of reasonableness under prevailing professional standards," defendant "must show that there is a reasonable probability that, but for counsel's unprofessional errors, the result of the proceeding would have been different." Strickland v. Washington (1964) 466 U.S. 668. Such a requirement may sound problematic to meet, so it is good to understand a few cases wherein a court evaluated the facts and decided if there indeed was a Sixth Amendment violation for counsel's failure to perform in a competent manner.
Perhaps the latest U.S. Supreme Court opinion on this issue is Terence Tramaine Andrus v. Texas, a June 15, 2020 decision (2020 DJDAR 5673).
Andrus was sentenced to death after, when age 20, he unsuccessfully attempted a carjacking in a grocery-store parking lot while under the influence of PCP-laced marijuana. During the attempt, he used a gun and fired several shots, killing car owner Avelino Diaz and a bystander, too.
At the guilt phase of trial, Andrus' defense counsel declined to present an opening statement, which can be a wise tactical decision or a decision exemplifying poor preparation and a failure to clarify a defense strategy.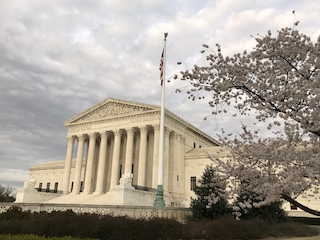 U.S. Supreme Court
After the State rested its case, defense counsel announced it was resting, too. This was quite unusual, as usually there are defense witnesses to call, but this can also be a prudent decision to maintain credibility with the jury and not appear to be delaying the trial over meritless defenses.
In his closing argument, defense counsel conceded Andrus' guilt and told the jury that the trial would "boil down to the punishment phase," emphasizing that "that's where we are going to be fighting."
Trial then turned to the punishment phase. Once again, defense counsel presented no opening statement. The prosecution presented evidence that Andrus had a lengthy history of violence, had gang tattoos and while awaiting trial, had hit, kicked and thrown excrement at prison officials. Defense counsel raised no material objections to the evidence and only cross-examined the witnesses briefly.
When it came to the defense case in mitigation, defense counsel was aware of many facts about Andrus. He knew that Andrus was six years old when his mother began selling drugs out of the apartment where he and his four siblings lived, one of which, Andrus' older brother, was "special needs." To fund an increasing drug addiction, Andrus' mom turned to prostitution. By the time Andrus was 12, his mom was spending entire weekends away, then entire weeks, away from her five kids to binge on drugs.
Andrus was the oldest child, except for his older brother with special needs. Andrus became the leader of the family, cooking breakfast for the children, putting them to sleep, walking them to school, helping them with their homework.
When their mom did return to the apartment, she was often high and brought with her a "revolving door" of drug-addicted men who were often violent.
At age 16, Andrus allegedly served as the lookout for a robbery and was sent to a juvenile detention facility for 18 months, where he became steeped in gang culture, dosed on high quantities of psychotropic drugs and was relegated to extended stints of solitary confinement. This experience caused him to be quite suicidal.
In the penalty phase of the trial, Andrus' defense counsel all but ignored this tidal wave of mitigating evidence. He called Andrus' mom to the stand and questioned her for about seven minutes. He called Andrus' biological dad to the stand and asked him about five minutes of questions. He then called Dr. John Roache as the defense's only expert witness and he testified about the effects of drug use on a developing adolescent's brain. He then called a prison counselor who testified that Andrus was showing remorse and "making progress." Lastly, Andrus himself testified, but only for about ten minutes.
The jury then sentenced Andrus to death.

The trial court, on Andrus' petition for a writ of habeas corpus, found this was clearly ineffective assistance of counsel. The appellate court, however, disagreed and Andrus filed a petition for writ of certiorari to the U.S. Supreme Court.
The U.S. Supreme Court reversed the appellate court, finding there was no doubt that this was ineffective assistance of counsel, finding Andrus' counsel fell short of his professional obligation "in multiple ways."

Interestingly, the court vacated the judgement of the Texas court and remanded the case to address the second prong of Strickland, the prejudice prong.

The citation for the U.S. Supreme Court ruling discussed above is Terence Tramaine Andrus v. Texas (2020) 590 U.S. ____, 140 S. Ct. 1875, 207 L. Ed. 2d 335.
For more information about ineffective assistance of counsel (IAC) issues, please click on the following articles: