Sexting Conviction Requires Sex Offender Registration
California Penal Code § 647.6(a)(1) makes it a crime to sexually annoy or molest any child under 18. No touching is required, but does require that a "normal person would unhesitatingly be irritated by" defendant's conduct. The conduct must be motivated by "an unnatural or abnormal sexual interest or intent with respect to children." Upon conviction for violating this statute, one must register for remainder of one's life as a sex offender under Penal Code § 290.
What One Should Learn from This Article: Registration as a sex offender for life is required for a conviction of violating Penal Code section 647.6(a)(1), which is a misdemeanor. Section 647.6(a)(1) is sexually annoying or molesting a child under 18.

Ronaldo Brandao, age 37 and a native of Brazil, sent numerous text messages to three different players on the Sonoma High School varsity soccer team. He was the team's coach. One of the girls was just fifteen years old.
The text messages told her that she was beautiful and that he loved her. He also told the fifteen year old to keep his love for her a secret. Two other girls, ages sixteen and seventeen, reportedly had similar interactions with Brandao that made them feel uncomfortable.
Pursuant to a plea bargain in Sonoma County Superior Court, Brandao pled no contest to one count of violating Penal Code § 647.6(a)(1) as a misdemeanor. According to the plea, he was placed on three years of summary probation, ordered to complete a sexual counseling program and register as a sex offender under Penal Code § 290.
Brandao challenged the sex offender registration aspect of the order, on equal protection grounds, that he register as a sex offender for life. In considering his appeal (in People v. Ronaldo Braz Brandao (2012 DJDAR 1837)), the First Appellate District first considered whether the statute at issue, Penal Code § 647.6(a)(1) adopts a classification that affect two or more similarly situated groups in an unequal manner. It then would consider whether the challenged statute bears "no rational relationship to a legitimate state purpose."
The case that Brandao urged the First Appellate Court to consider was
People v. Hofsheier
, a 2006 California Supreme Court case that exempted a sexual offender convicted of oral copulation of a minor from the 290 registration requirement. In
Hofsheier
, defendant claimed his right of equal protection was violated because defendants convicted of voluntary sexual intercourse with minors of the same age (Penal Code § 261.5(c)) were subject to discretionary registration requirements.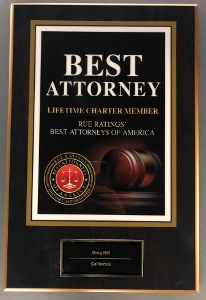 In
Hofsheier
, defendant's equal protection claim was sustained, as the court noted that the minor victim participated in the act voluntarily and without defendant's use of force, violence, duress, menace or fear of bodily harm. In
Hofsheier
, the California Supreme Court found that the risk of recidivism under such circumstances was low.
Turning to Brandao's case and applying
Hofsheier
, the First Appellate District rejected Brandao's appeal. The Court noted that 647.6 is a general intent crime, meaning no specific intent, for example, to arouse a minor is required, although that was present in Brandao's case. The Court also commented that the offenses in
Hofsheier
involved voluntary conduct between two willing parties, which was not present in Brandao's case. Lastly, the Court found it significant that the dangerous type of conduct at issue was defendant's unnatural or abnormal sexual interest in children, which was irritating to the recipient. This further differentiated Brandao's conduct from the defendant in
Hofsheier
.
Brandao's appeal of the requirement that he register as sexual offender was thus rejected.
It merits mention that, pursuant to Penal Code § 290.46(e), misdemeanor offenders may request exclusion from the Megan's Law Internet website, although they must continue to register as a sex offender. It also permits offenders convicted of misdemeanor violations of 647.6 to be relieved of the registration requirement if they have obtained a certificate of rehabilitation.
The permanent citation for this case is People v. Ronaldo Braz Brandao (2012) 137 Cal.Rptr.3d 672, 203 Cal.App.4th 436.

For more information about jail and prison sentences, click on the following articles:
Appellate Court Denies Equal Protection Challenge of Lifetime Sex Offender Registration Requirement for Possession of Child Pornography
For case summaries of selected cases our firm has handled, click
here
.
Contact
Greg Hill & Associates