Second-Time DUI in 2008, Van Nuys, Conviction Expunged
In 2008, our client was 44 years old. He was arrested on suspicion of DUI after officers from the West Valley LAPD found our client asleep behind his steering wheel at about 1:30 a.m. at the intersection of Chatsworth Avenue and Topanga Canyon Boulevard.

A blood test of his blood showed his blood alcohol content (BAC) was 0.16%. This was his second DUI within ten years.

Our client enlisted the services of a public defender and quickly resolved the case in early 2009 for four years of informal, or summary, probation with an obligation to serve 96 hours in Los Angeles County Jail, enroll in and complete the SB 38 eighteen-month DUI program and pay a court fine of $500 plus penalties and assessments (total was $1,907). Our client successfully completed probation in 2013.

He then moved overseas and thrived, becoming engaged to be married in late 2020. He was also eligible for promotion to a very prestigious position, but he was also considering a return to California, where he would need to apply for a state license in his profession.
However, he was concerned that if his history of DUI was revealed, he may not only miss out on the promotion, but be asked to resign. This could undermine his engagement.

The client, now age 57, called Greg Hill & Associates from overseas and spoke to Greg Hill about his concerns. Greg explained that because the client was actually convicted of DUI, no judge could order the record of the conviction deleted, erased or removed from his criminal history.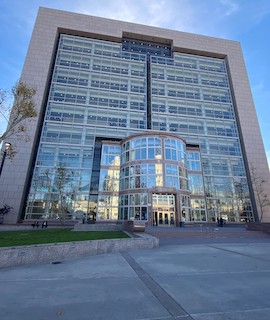 Van Nuys Courthouse
However, he could have the conviction expunged, which would mean the case would change to being shown as dismissed and his last conviction changed back to "not guilty." Additionally, for employment purposes (except if applying to operate a state lottery, run for public office or seek a California-issued professional license), one could legally state he or she was not convicted of the crime in the case.
The client stated he understood the limitations of expungement and understood the case history of being filed would remain on his history.
Greg and the client also discussed the new Business & Professions Code section 480, added in 2015, that barred most California licensing agencies from denying a California professional license based on a conviction that had been expunged. There were exceptions, notably for teachers, doctors, lawyers, insurance brokers and childcare providers, but the law was becoming more protective of those with past convictions.

Greg also mentioned Gebremicael v. California Comm'n on Teacher Credentialing (2004) 118 Cal.App.4th 1477, wherein a California appellate court held an applicant for a teaching credential could not be denied such a credential based on having been convicted of a felony when the felony was reduced to a misdemeanor under Penal Code § 17(b). In other words, the power of an expungement and a reduction of a felony to a misdemeanor was gaining real power in the licensing context.
The client then retained Greg Hill & Associates to prepare, file and serve his petition for dismissal, as well as to pay the $120 filing fee for Los Angeles County that was associated with such a filing.

Our office not only filed the CR-180 judicial council form petitioning for dismissal, but we submitted a short supporting memorandum of points and authorities with a declaration from our client explaining his interest in "expungement" and why he sought this for his continued career and family's future. This supporting memorandum of points and authorities and the declaration was not required, but it added a personal aspect to the petition that the judicial council form alone lacked.
The Van Nuys Superior Court judge assigned to the case granted the petition for dismissal, which made our client happy, as it brightened his future considerably and reduced his stress of being summarily denied a promotion based on an event almost fifteen years ago, in a different county no less. The expungement also helped ease his anxiety about returning to the United States and being denied a state license in his chosen profession.
For more information about expungement, please click on the following articles: