SB 1437 Denied Under People v. Holmes Stipulation
Trial court judges, in reviewing a petition for resentencing brought under Penal Code § 1170.95 following enactment of Senate Bill 1437, must determine from the outset if the petitioner makes a prima facie case for relief. This is required under Penal Code § 1170.95(c).
In doing so, the judge will first consider the declaration signed by petitioner, often on a form wherein petitioner checks certain blocks if the petition is filed by the petitioner himself. On that form, petitioner first will often check or initial a box that says an information was filed against him which permitted the prosecution to proceed under a theory of felony murder or under the natural and probable consequences doctrine. Second, petitioner will attest by checking or initialing a block that states he was convicted or pled guilty (or no contest) to first or second degree murder under the felony murder or natural and probable consequences doctrine. Third, petitioner will represent that he could not now be convicted of first or second degree murder under the changed law.
Why This Article Matters: Beware of a People v. Holmes stipulation wherein one stipulates to a factual basis for a plea based on wording in the complaint or information that may not be factually proven or even was refuted in discovery, as doing so can certainly torpedo a post-plea motion like an SB 1437 motion.

To determine if a petitioner establishes a prima facie case (before counsel can be appointed for petitioner), some courts have interpreted 1170.95(c) as permitting the judge to examine the record of conviction. See, e.g., People v. Cornelius (2020) 14 Cal.App.5th 54, 58.
In the following case, People v. Christopher Falcon (2020 DJDAR 12086), judge Kathleen Blanchard in Lancaster looked at the record of conviction and found that Mr. Falcon entered a plea to second degree murder as an aider and abettor to the actual shooter, co-defendant Anthony Mancera. Mancera was subsequently convicted of first-degree murder.
When Falcon entered his plea, he stipulated only "to a factual basis pursuant to People v. Holmes based upon count one, paragraph one, of the charging information for purposes of entering this plea."
People v. Holmes (2004) 32 Cal.4th 432, at 436, provides that "if the trial court inquires of defense counsel regarding the factual basis for the plea, it should request that defense counsel stipulate to a particular document that provides an adequate factual basis, such as a complaint, police report, preliminary hearing transcript, probation report, grand jury transcript or a written plea agreement."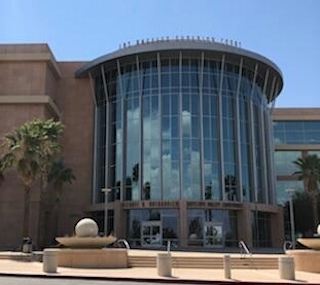 Lancaster Courthouse
People v. Holmes, as referenced in the Falcon case that is the subject of this article, should be distinguished from People v. Holmes (1960) 54 Cal.2d 442, which stands for the proposition that a jury waiver must be expressed and not implied.
For Falcon, the first paragraph of the information, as stipulated to by his counsel, provided:
"On or about July 2, 2009, in the County of Los Angeles, the crime of MURDER in violation of Penal Code § 187(a), a Felony, was committed by ANTHONY MANCERA and CHRISTOPHER ROBERT FALCON, who did unlawfully and malice aforethought murder SERGIO SANTIAGO, a human being."

As the trial court observed, nothing in this paragraph suggests Falcon was being prosecuted under a natural and probable consequences doctrine or the felony murder rule. To the contrary, it suggests he was being prosecuted as a principal. The information contained a firearm enhancement, which alleged that Mancera personally discharged a firearm resulting in death, which would make Falcon an aider and abettor.
The trial court judge then turned to the record of conviction for clarification of the prosecutor's theory of the case and the evidence against Falcon. It looked at the preliminary hearing transcript, wherein a witness described that about five seconds before Falcon and Mancera approached the victim, Falcon told Mancera to get his gun out. Mancera did so and shot the victim. Falcon then said, "that's how we do it."

At this preliminary hearing, a prosecution gang expert testified that the statement "that's how we do it" was an affirmation that the shooting was a proper response to the victim's lack of respect.
The trial court then denied the SB 1437 petition because this evidence showed Falcon was convicted as a direct aider and abettor, not mistakenly as a principal under felony murder or under the natural and probable consequences theory at all. There was no underlying felony to make it felony murder and there was no other crime to make the death a result under the natural and probable consequences doctrine.
So, the Second Appellate District had no problem affirming the Lancaster judge's ruling and denying SB 1437 relief. The murder and Falcon's role in it were not the sort of conviction eligible under 1437.

We bring this to the reader's attention because not all murder convictions are eligible for 1437 relief, as this appellate court ruling shows.
The citation for the Second Appellate District Court ruling discussed above is People v. Christopher Falcon (2nd App. Dist., 2021) 57 Cal. App. 5th 272, 271 Cal. Rptr. 3d 264.
For more information about 1437 issues related to those involved in this article, please click on the following articles: