Romero Motion Considers Only the Crime Committed, Not More
In the following case,
People v. Rene Avila
(2020 DJDAR 12759) decided by the Second Appellate District, the court observed:
While the purpose of the Three Strikes law is to punish recidivists more harshly (People v. Davis (1997) 15 Cal.4th 1096, 1099), not all recidivists fall within the spirit of that law. A trial court therefore may strike or dismiss a prior conviction in the furtherance of justice (§ 1385(a); People v. Superior Court (Romero) (1996) 13 Cal.4th 497, at 504). When considering whether to strike a prior conviction, the factors a court considers are whether, in light of the nature and circumstances of the defendant's present felonies and prior serious and/or violent felony convictions, and the particulars of the defendant's background, character and prospects, the defendant may be deemed outside the scheme's spirit, in whole or in part, and hence should not be treated as though the defendant had not previously been convicted of one or more serious and / or violent felonies (People v. Williams (1998) 17 Cal.4th 148, 161).

It is against this background that the case of Mr. Avila deserves a closer look because in his case, he had three prior strikes and so he filed a Romero motion to "strike a strike" conviction from his earlier criminal history and the Pomona Superior Court judge denied the motion, but the Second Appellate District reversed.
Why This Article Matters: A Romero motion is a request that the judge strike a prior serious or violent felony conviction within the Three Strikes Law for sentencing purposes because defendant falls outside the statutory intent of the law to punish recidivism because of defendant's "background, character and prospects."

The basic facts of Mr. Avila's case are as follows: On February 19, 2018, Avila and a Spanish-speaking friend approached Bernardino Castro, who was selling oranges and flowers at a freeway off-ramp. Using his Spanish-speaking friend to speak to Castro, Avila told Castro to pay him $100 in "rent" in order to sell oranges at that location, claiming it was his "barrio." Avila then left, but came back the next day and asked for the $100, which Castro said he did not have. Avila then took two bags of oranges and squashed them and left. At trial, Castro said Avila made him feel nervous and that he thereafter sold oranges at a different location to avoid Avila.
The next day, February 21, 2018, Pedro Blanco-Quiahua was selling oranges near the same off ramp. Avila approached and threw a bag of oranges on the ground, stomped on them and said, "money, money, money." He then stomped on another bag of oranges. A witness heard Avila say, "money, give me money."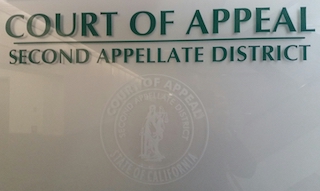 Second Appellate District Court of Appeal Los Angeles
Based on the evidence, a jury found Avila guilty of attempted second-degree robbery of Blanco-Quiahua (Penal Code §§ 664/211) and of the attempted extortion of Castro (Penal Code §§ 664, 518).

On November 30, 2018, the trial court denied Avila's Romero motion to strike a prior conviction and sentenced him to 25 years to life, plus 14 years.

On appeal, Avila argued that reversal of the judgement because gang evidence was erroneously admitted against him, that there was insufficient evidence to support attempted extortion and that the judge abused his discretion in denying his Romero motion.
The Second Appellate District rejected the arguments about improper gang evidence being admitted and that there was insufficient evidence to support attempted extortion, but agreed that the judge abused his discretion in denying the Romero motion and also found that the sentence imposed was cruel and unusual punishment under the California Constitution, so it was remanded for resentencing.
The Second Appellate District explained that the Romero motion should have been granted because the trial court seemed to base a great deal of its opinion on the observation that "had someone not called the police, who knows what would have happened?" The appellate court was critical of the trial court for engaging in speculation and then basing its decision on conduct that did not take place.
The appellate court also was quite critical of the trial court not considering enough the fact that Avila, in 2018, was 47 years old. His first two strikes took place 29 years earlier when he was 18 years old (a second degree robbery and an assault with a knife on the same victim). Then in 1992, at age 20, Avila committed his third strike, a second degree robbery. He then was sentenced to ten years in prison. In other words, the strikes took place a very long time ago.
Avila also had six sustained juvenile petitions, all for drug use. He had also been shot three times over the years (once when age 16, once at age 26 and once in 2017), which the court considered as mitigating and more indicative that Avila was no longer considered young enough to be a recidivist, especially because he had worked as a truck driver over the years.
The citation for the Second Appellate District Court ruling discussed above is People v. Rene Avila (2nd App. Dist., 2020) 57 Cal. App. 5th 1134, 272 Cal. Rptr. 3d 127.

For more information about "striking a strike" issues, please click on the following articles: