Reversal of Conviction for Battery on a Police Officer
The following 2017 California Supreme Court opinion is summarized because our office is located near the Redondo, San Pedro and Long Beach harbors where private citizens dock sailboats and motorboats in the marina behind locked gates.
The Gist of this Article: Harbor patrol officers may not be peace officers as defined under Penal Code § 243. The following summary of a Santa Barbara case exemplifies this issue, wherein the California Supreme Court vacated a conviction for battery on a police officer because harbor patrol officers in Santa Barbara are not police officers, as defined for purposes of battery on a police officer.

If anyone has ever been to such marinas, one is probably familiar with the gates controlled by a keycard or key and how entry is commonly gained by simply waiting by the entry for an authorized person to enter or leave and then following behind. Therefore, we believe this legal issue will arise again and again, so this article may prove helpful to a potential client.
Defendant Bryan Pennington possessed neither a keycard or permission to enter a private marina in the Santa Barbara harbor. He gained access to the marina by grabbing a gate just before it closed and locked.
A manager at the marina noticed this and called the harbor patrol to report the unauthorized entry.

The Santa Barbara harbor patrol is an agency of the City of Santa Barbara. Harbor Patrol officers Richard Hubbard and Ryan Kelley responded in a marked harbor patrol truck, wearing uniforms, badges, sidearms, Tasers, handcuffs and other police tools. The officers saw Pennington near a storage box at the end of a dock. Officer Hubbard recognized Pennington from a prior incident at the marina.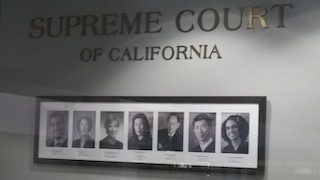 CA Supreme Court With Portraits of Justices
To the officers, it looked like Pennington was trying to steal a coiled hose. The officers walked to the start of the dock, blocking Pennington's path (unless he were to jump in the water). The officers told him he could not leave with the hose. Pennington then returned the hose to the storage box and walked toward the officer, ignoring them.

The officers told him to stop, but he ignored them and tried to force his way between them. Pennington then assumed a martial art pose and kicked one of the officers and began to throw wild punches. The officers then Tasered him and handcuffed him before taking him into custody. While being taken into custody, he cussed at the officers and said they "needed to get real police officers down here."
The Santa Barbara District Attorney's office then filed a case against Pennington, charging him with resisting an executive officer (Penal Code § 69), battery on a listed person (Penal Code §§ 242 and 243, to wit "police officer"), trespass and attempted petty theft.
Pennington represented himself. Before trial, the People asked the judge to rule that Santa Barbara harbor patrol officers were peace officers as a matter of law. Pennington opposed this, arguing he wanted to examine one of the officers about "his functions, his duties, how he came about getting that authority and how he's actually administering it." The judge granted the People's motion.
Pennington was then convicted by the jury and was sentenced to five years of formal probation with one year in county jail.

Pennington then appealed the conviction for a violation of Penal Code 242 on a person listed as a peace officer under Penal Code 243. He claimed the evidence introduced at trial was insufficient to prove one of the officers involved was a peace officer because no evidence showed his primary duty was law enforcement.

He also claimed that the trial court judge erred by instructing the jury that harbor patrol officers were peace officers as a matter of law. He cited to People v. Miller (2008) 164 Cal.App.4th 653, 655, which defines an officer as a peace officer only if the particular officer's primary duty is law enforcement in either of two circumstances: when acting on or about the property or when performing necessary duties anywhere in the state. The appellate court denied Pennington's appeal.
Pennington then appealed to the California Supreme Court, which surprisingly agreed with Pennington, reversing the appellate court and in effect, vacating the conviction for battery on a police officer.

The Supreme Court noted that not all harbor patrol officers are peace officer. Instead, "harbor patrol officers are only peace officers if their 'primary duty . . . is the enforcement of the law in or about the properties owned, operated or administered by the harbor or port or when performing necessary duties with respect to patrons, employees and properties of the harbor or port." It then quoted to Miller, supra, agreeing with Pennington that the People had failed to prove the Santa Barbara harbor patrol officers met this standard.

The citation for the California Supreme Court ruling discussed above is People v. Bryan M. Pennington (2017) 3 Cal. 5th 786, 221 Cal. Rptr. 3d 448, 400 P. 3d 14.

For more information about assault on a police officer, please click on the following articles: