Restraining Order Dismissed, Lamoreaux Justice Center
Our client, age 24, and his girlfriend, age 22, had been students together at Cal State Long Beach, each working toward a teaching credential. Our client was ahead of his girlfriend in the curriculum, so they often discussed classes he had already done and she was taking.

They got along well.
The two were boyfriend-girlfriend for over two years. They had taken vacations together to South America and met each other's parents. They spent a lot of time together.
Eventually, our client graduated and got a job at Bell Gardens High School. He also served as a coach of one of the school's varsity teams. He was well-liked and respected for his hard work.
A job then opened up for a new teacher there and so our client encouraged his girlfriend to apply.

He also introduced his girlfriend to the assistant principal, informally at a school party. This particular assistant principal would be the one who would be making the hiring decision.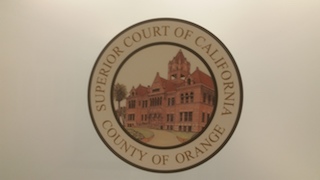 Orange County Superior Court Seal
Ultimately, our client's girlfriend did not get the job. She was devastated. She broke up with our client and decided to ruin his career if she couldn't start her career as planned.
She therefore filed a petition for a civil restraining order alleging domestic violence, knowing that if such an order were granted, it would go on the CLETS (California Law Enforcement Telecommunications System) and the school would confront our client about this, asking him to explain what had taken place, so the school could be assured he was not a safety danger to the students.
The petition for a civil restraining order alleged sexual crimes (forcible sodomy and forcible rape), indecent exposure, stalking, criminal threats and battery by our client against his former girlfriend. It was a seven-page, handwritten account, but did not allege in any way that without such an order, her safety was in danger. Because of this omission, the judge would have grounds to deny the petition, despite its lurid allegations.
Nonetheless, the claims were extreme and, if shown to police, would be cause for an investigation into their truthfulness and then, if found true, possible felony prosecution for several sex crimes that involved significant prison time.
Indeed, the former girlfriend had no need to fear for her safety. Our client did not want anything to do with his former girlfriend. He deleted her phone number, Facebook page, Instagram and e-mail address from his phone and his laptop computer.

He was aware that she had moved to Orange County and was working part-time at a private school, but he did not even know which one. He was too busy to be involved with her anyways, with a full load of classes and coaching duties.
Nonetheless, the petition was set for a hearing. In the petition, the former girlfriend sought an order prohibiting our client from coming within 100 yards of her home, her two brothers and even her dog.

The client then called up Greg Hill & Associates, fearful of the consequences for his job if such an order was entered. Our client was quite upset about the outrageous lies submitted to the court under penalty of perjury and wanted to expose the allegations as lies to prevent the judge from agreeing with his former girlfriend by allowing a restraining order against him.
Greg discussed the facts and became aware of the client concurrent criminal case for trespassing that involved some of the same facts as the stalking allegations made in the restraining order. Greg also sensed that the girlfriend was using the court process for an ulterior purpose to soothe her pain from being denied the job at the same high school as our client.
Since our client was facing a parallel trespassing charge in Los Angeles County (Long Beach), for which the former girlfriend was a witness (she described it as stalking), Greg discussed this with our client and suggested a continuance of the hearing to let the criminal proceedings resolve first. Greg explained this would also prevent our client from having to testify and possibly inculpate himself and it would allow time for the client's girlfriend to calm down and perhaps even abandon her now intense emotional investment in punishing our client.
The client agreed with seeking such a continuance.
Therefore, at the hearing on the petition, Greg explained to the judge that our client faced an ongoing criminal case over the same allegations, so he wished to assert his Fifth Amendment right not to testify because were he to testify in the restraining order matter, he may incriminate himself for the criminal matter. Therefore, on behalf of the client, Greg suggested a six-month continuance of the hearing on the permanent restraining order to let the criminal case resolve itself first. The judge agreed to this.
Six months later, when our client and Greg returned to court for the hearing on the restraining order, the former girlfriend did not even appear and the restraining order was dismissed. She apparently had no emotional attachment to the court proceeding and had not contacted our client at all during the six months prior (and our client certainly had not contacted her).
The client was extremely happy with this.