Redondo Beach, Furnishing Alcohol to a Minor, No File
Our client, just three weeks past age 21, went to the Redondo Beach Beachlife Festival down near the Crown Plaza Hotel and Seaside Lagoon. He went there with a friend from high school who was under 21.
Our client was home for the summer from a prestigious four-year college. He wanted to relax, listen to the live bands, see other people enjoying themselves and exercise his new right to drink alcohol. His friend was under 21, but our client assured him that he would buy beer and then give his friend one or two.
Little did our client know, but the City of Redondo Beach had partnered with the California Bureau of Alcohol Beverage Control (ABC) to have three or four undercover ABC officers monitoring the area where beer was being sold. Our client, with a wristband on his arm showing he was over 21, went to the beer dispensing area and ordered two beers, with his friend hanging out nearby. Our client then paid for the two beers and was handed two cups, each with a full beer.
He then walked back through the crowd of people nearby handed one of the beers to his friend, age 20. As our client stated, it seemed like no longer than five seconds later an undercover ABC officer asked our client's friend for his ID and our client's ID as well. As our client was fumbling through his wallet, he accidentally gave the officer a fake ID that he had, even though he was actually over 21. The fake ID showed he was 22. Our client's friend showed officers an ID that reflected age 20.
Our client was cited for furnishing alcohol to a minor (Business & Professions Code § 25658(a)) and possession of a fake ID (Business & Professions Code § 25661(a)). He was devastated. He signed a promise to appear in court in about three weeks and the two friends left the festival.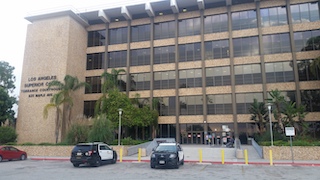 Torrance Courthouse
This was not our client's first brush with the law. As a sixteen-year-old, he had been arrested for DUI and the case was fortunately resolved through a pre-filing diversion program, so he was never convicted of DUI and did not have a juvenile adjudication against him for DUI. At the prestigious four-year college, he was ticketed for underage possession of alcohol and that, too, was resolved through a pre-filing diversion program the university and the local town had instituted with such a common offense.
Our client felt his luck was running out with this latest brush with the law. His father first called Greg Hill & Associates and spoke with Greg about his son's latest problem. Greg listened to the father explain what had happened. Greg then explained how such cases are often handled and what the father could encourage his son to do.
Greg was then called by the client after the father's initial screening. The client explained what had happened. Greg then described how such cases are customarily handled in Hermosa and Redondo Beach at the Torrance Courthouse. Greg explained how the Redondo Beach City Prosecutor's office is generally regarded as tough, but there were certain things the client could do to help himself.
Greg suggested that the client immediately attend at least five Alcoholics Anonymous (AA) meetings. He also requested that the client write a very short (one-third of a page or less) essay on why furnishing alcohol to a minor is illegal. Lastly, Greg requested a copy of the client's transcript from the very prestigious university he was attending, which Greg hoped to present to the Redondo Beach City Prosecutor to show the client was an achievement-oriented person and that this incident was a lapse in judgment, rather than a reflection of any criminal deviancy or immaturity.
The client then presented each of these documents to Greg, including his AA sign-in sheet. Greg then wrote a letter to the Redondo Beach City Prosecutor, enclosing these documents and suggesting that the case be referred to the P.A.T.H. pre-filing diversion program in Long Beach instead.
After doing this, Greg received no response. The day for the arraignment then arrived and Greg went to court on the client's behalf. No case was filed.
We would be presumptuous to conclude that our letter and the client's hustle in gathering together the documents Greg recommended led to the decision not to file the case. It was a DA reject. The decision to decline to file the case could have been instead a function of the ABC officer simply losing the ticket or the ABC officer being sympathetic to our client. Regardless, our client was pleased that he received "a mulligan" on this incident that otherwise may have resulted in a misdemeanor conviction that diluted the value of his future degree from an expensive and well-respected college.
For more information about the issues in this case, please click on the following articles:
Contact us.