Rancho Cucamonga, Grand Theft, Costco, Plea to PC 415
Our client and his wife went to Costco to burn some time before going to a movie. They were passing through the electronics section when for no apparent reason, his wife suddenly grabbed six $100 television/VCR remote controls off the shelf. She turned to him and said, "put these in your jacket and zip it up."
In a Nutshell: Rancho Cucamonga, P.C. 487(A) grand theft and P.C. 459 second degree commercial burglary reduced to disturbing the peace P.C. 415.

A Costco Loss Prevention Officer on foot walking around the store observed the activity. Our client took three of the remote controls and followed his wife's instructions. The wife then took the other three and put them in her large purse. It happened quite fast. The husband was confused, but went along with his wife.
The couple then walked through the check out without paying. A Loss Prevention Officer approached them, asking them to stop and return the merchandise. The wife refused to stop walking. She simply ignored the officer and kept walking out the store. Our client, confused, kept urging his wife to stop, but she would not, later explaining that she feared a strip search as she had seen on television recently.
The two walked across the large Costco parking lot, then crossed a four lane street and proceeded into a movie theater, all the while with Loss Prevention following on foot with some curiosity and calling on their walkie talkie back to the loss prevention office. Finally, once in the movie theater, the wife became aware that she was being pursued and walked down some stairs, which she tripped upon and fell down. She broke her ankle from the fall, but kept walking with a limp. Loss prevention then stopped her, which made her hysterical.
Our client was dumbfounded at his wife's conduct, apologizing to the police. Yet he, too, was arrested and charged with two misdemeanors in the Rancho Cucamonga Superior Court.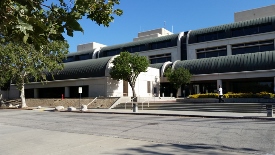 Rancho Cucamonga Superior Courthouse
Our client then retained Greg Hill & Associates. At first, Greg contacted Costco's Loss Prevention Department and tried to work out a civil compromise, which would allow dismissal of the case. This was difficult, but after many tries, Greg was finally able to get the necessary declaration from Costco.
Yet the District Attorney refused to cooperate in such a disposition, vowing that "Rancho Cucamonga does not allow civil compromises." Greg then assembled a Defense Position Letter, with multiple awards and letters of recommendation from our client's employer, who he had been with over 22 years. Greg then drafted a Motion for Civil Compromise and gave it to the District Attorney, begging her to stipulate to any disposition other than one involving a crime of dishonesty.
The District Attorney had to discuss the case with her supervisor and it took many trips out to Rancho Cucamonga to persuade the District Attorney that such a disposition, i.e. for trespassing or disturbing the peace, fit. After all, he was essentially forced to comply with his wife's odd behavior against his will.
In the end, the District Attorney did allow a plea to misdemeanor disturbing the peace, which she said was highly unusual in Rancho Cucamonga for a shoplifting case. Our client was happy, too, as his security clearance was apparently not in jeopardy with such a result.
For more information about the issues in this theft offense case summary, click on the following articles:
For more information about theft and robbery crimes, please click
here
to watch our theft offenses video.
Contact us.