Public Intoxication (PC 647(f)) and PC 372, Hermosa Beach
Our client, age 28, went to Sharkeez Cove with two friends he had known since high school. They wanted to watch the Super Bowl in a loud bar and enjoy the atmosphere, as well as a few drinks.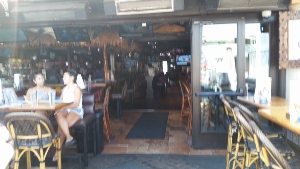 Sharkeez in Hermosa Beach
The group coincidentally sat next to three young women intending to do the same thing, so the two groups moved their tables together and started talking.

In a Nutshell: Client arrested outside Sharkeez Cove in Hermosa Beach after he is observed urinating in public into a maître d's podium (mistaking it as a urinal) and being in violation of Penal Code § 647(f), public intoxication. Case resolved in Torrance Superior Court with no jail time.

As the game wore on, more and more alcohol was consumed, including pitchers of margaritas.
As the game ended, the two groups exchanged phone numbers and promised to meet each other again. Our client and his buddies decided to simply use a cab and leave their car parked, as they wisely recognized they were too drunk to drive. The bar had a program of offering free taxi rides home for those who needed this, so the group decided to ask the manager about this.
They were exiting the bar and stopped walking by the podium that stands at the edge of the entrance to the bar. This is where the waiters and waitresses would write down the names of those waiting to be seated and control in inflow of people into the bar.
Our client, due to his intoxication level, believed the podium was a urinal in a men's restroom. So he casually walked over to the podium, unzipped his pants and began to urinate in the podium. People nearby saw him doing this and chuckled, which confused our client. A bouncer quickly came over and grabbed our client's arm and told him to stop.
Bewildered and shocked that anyone would disturb him, our client told the bouncer, "just let me flush."
The Hermosa Beach Police Department arrived and spoke to our client, who they described as incoherent. They held him for about twelve hours at the jail, eventually releasing him on possible charges of public intoxication (Penal Code § 647(f)) and public nuisance (Penal Code § 372).
The client was nervous what such an alcohol-related offense might cause for him at work, as well as what the punishment might be, including jail time. After all, he had a prior conviction for DUI in 2008, petty theft in 2007 and assault in 2007. He had stayed out of trouble for eight years, but was worried.
Greg discussed the case with him and how the prosecution may approach the case, possibly looking to impose jail time. Greg explained that judicial diversion, a way of earning a dismissal, was most likely impossible because his prior convictions within ten years would disqualify him. However, Greg believed he could negotiate a plea bargain avoiding jail time, especially if the client attended ten to twenty alcoholics anonymous (AA) meetings before the arraignment.
Greg then did appear in court for the client in Torrance Superior Court, showing the prosecutor that the client had indeed attended 20 AA meetings. Over three court appearances, Greg was able to negotiate a plea bargain with the Redondo Beach City Prosecutor that avoided any jail time.
However, the Client was placed on three years of summary probation, during which time he was subject to a stay away order from the Hermosa Beach Pier Plaza area, he was required to make a $550 donation to the Hermosa Beach Nuisance Abatement Fund (designed to pay for better lighting at the public restrooms in downtown Hermosa Beach and better signage for such restrooms) and pay a $349 booking fee to the City of Hermosa Beach.
The client was quite happy to resolve the case with no community service, no jail and just fines.
For more information about public intoxication and public urination, please click on the following articles:
Diversion Programs in California for Armed Forces Veterans

Contact us.