Prostitution Near U.S.C., East LA Court, PDP & Dismissal
Our client, age 28, called a phone number listed on Backpage.com to arrange a "date" with a woman advertising "full services." This is a website wherein police agencies often purchase advertising space to organize sting operations targeting johns.
Condensed Form: U.S.C. doctoral candidate arranges meeting with prostitute at Vagabond Inn in Los Angeles, case filed in East L.A. Court; case dismissed after client completes prostitution diversion program (PDP).

Our client, a candidate for a Ph.D. in electrical engineering and on a student visa, spoke with a police decoy and agreed to pay her $120 for an hour of "full services." The woman directed our client to meet her at the Vagabond Inn on Figueroa Avenue just north of U.S.C. She instructed our client to call her once he arrived.
About an hour later he arrived at the Vagabond Inn and called the woman's number. She peered from the window and asked him to describe what he was wearing. She then told him to meet her in a specific room.
Our client then went to the room, entered and briefly chatted with the woman. He confirmed $120 for "full services" and showed her the money. Two male police officers then emerged from the room's bathroom and arrested our client.
The client called Greg Hill & Associates, terribly embarrassed and apprehensive about the consequences of the arrest on his immigration status. Greg met with him and listened to his story, noting that because of his poor English, "full services" perhaps did not mean the same thing to him as it would to someone who grew up here and was more familiar with the street vernacular terms for the sex acts a prostitute might offer (i.e. "pops," "Greek bb," "bbbj") or other terms they use such as "roses," etc.
Greg then appeared in the East Los Angeles Superior Court and read the police report, which was quite ambiguous as to what our client agreed to pay for. While our client did not bring cards to the hotel room or intend to take the prostitute to a concert at the Hollywood Bowl, the police report did not say that sex was offered in exchange for money.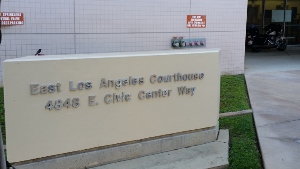 East Los Angeles Courthouse
Greg Hill pointed this out to the prosecutor, who agreed to let our client "earn a dismissal" by attending the prostitution diversion program (PDP) at the LAPD's 77th Street Division Station and undergoing an AIDS test. If the client did so and stayed out of trouble for one year, the prosecutor agreed to dismiss the case.
This was a good offer in light of a recent trend in the East Los Angeles Court to stop offering such deals. The recent trend was to make the johns plead no contest to the Penal Code § 647(b) charge, meaning to convict them, place the individual on three years of summary probation. make him (or her!) pay a $250 fine and then attend an AIDS Education and Testing Program. This meant that the person would have a conviction on their record, a scar that could ruin employment opportunities, promotions and cause embarrassment.
This made the offer to our client meaningful in that regard, although five years ago such an offer would have been nothing special.
Our client accepted the offer, attended the PDP, underwent his AIDS test, did stay out of trouble and the case was dismissed a year later. Along the way, he was awarded his Ph.D. in electrical engineering.
For more information about sex offenses and prostitution in specific, click on the following articles:
Appeals Court Affirms LAPD Officer's Conviction for Solicitation of Prostitution (Penal Code § 647 (b))
Watch our video about sex offenses by clicking
here
.
Contact us.