Proposition 47 (Prop 47) Now Applies to Juvenile Cases
Proposition 47, when it was passed in 2014, reclassified certain nonviolent, lower level felonies to misdemeanors. It provided that those eligible for reclassification can ask a judge to re-designate their felony conviction as a misdemeanor, thereby reducing the sentence (this can be a very good thing for someone already in custody). This provision to seek re-designation is set forth at Penal Code § 1170.18.
The Reader's Digest Version: Proposition 47 applies retroactively and to current cases in juvenile court. A prior juvenile adjudication (how a "conviction" in juvenile court is described) for a felony eligible under Prop 47 may be decreased to a misdemeanor if the individual is not otherwise disqualified.

The careful reader will notice that the operative term is "conviction." In juvenile cases, one is not "convicted." There is an adjudication, but not a conviction.
Therefore, when Alejandro N., a juvenile, filed a § 1170.18 petition to change his 2013 felony adjudication for commercial burglary to a misdemeanor, the San Diego County judge was faced with an interesting request.
The judge did reduce the felony sentence to the misdemeanor sentence (as Welfare and Institutions Code § 726 (b)(1) requires that a juvenile's maximum term of confinement not exceed an adult's maximum term for the same offense), but she refused to reclassify the felony adjudication as a misdemeanor adjudication, explaining that the statute only referred to convictions, which necessarily excluded juveniles.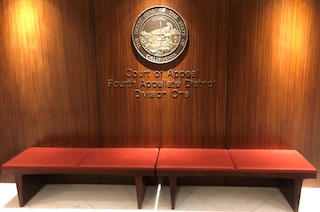 Fourth Appellate District Court of Appeal Division 1 San Diego
Alejandro N. then filed a writ for petition of mandate to challenge the juvenile court's ruling. The Fourth Appellate District was aware that there were numerous other juvenile offenders who had filed similar modification requests based on Prop 47. The court recognized resolution of Alejandro N.'s case would apply to the other juvenile modification petitions also filed in the superior court.
The Fourth Appellate District began its analysis by noting that Welfare and Institutions Code § 602 provides for a minor to be declared a ward of the juvenile court when the minor commits a crime set forth in the Penal Code as set forth in the adult context.
Accordingly, the Fourth Appellate District held that § 602 incorporates "the entire body of laws defining criminal offenses." Therefore, "when a criminal offense is reclassified from a felony to a misdemeanor in the adult context - as occurred under Proposition 47 – the reclassification likewise applies in juvenile wardship proceedings."
Alejandro N. also requested that the court order his DNA sample and information removed from the state's database, and reduce his fine to the misdemeanor level.
The Fourth Appellate Court agreed that a reclassified misdemeanor offense cannot support retention of DNA materials in the state's DNA database, unless there is another basis to retain it apart from Alejandro's commission of the misdemeanor offense. As to the request for the fine reduction, the appellate court seemed amused at this request because the fine imposed was originally $50, which was already at the misdemeanor level. This part of his request was thus denied.
The new order imposed by the appellate court reduced the maximum term of confinement from three years as a felony to six months as a misdemeanor. Since Alejandro N. had already served 368 days, he was thus immediately released from custody.
This ruling, is significant for what arguments were made and seemingly rejected, too. The prosecution argued that Section 1170.18 should not be interpreted to apply to juvenile offenders because Proposition 47 focuses on reducing prison costs and juveniles are not sent to prison. Moreover, the impact of a juvenile felony adjudication is mitigated by the confidentially of juvenile records. The appellate court declined to address these arguments as being meritorious or meritless.
Alejandro N. argued that reducing prison costs is only one purpose of the act and that a juvenile felony adjudication can create harsher consequences in subsequent juvenile, adult criminal or immigration proceedings, and can seriously impact employment, military and college admissions opportunities, which all destroy the rehabilitative purpose of the juvenile system. Lastly, Alejandro argued that the equal protection clauses of the U.S. and California constitutions were violated by affording the benefits of Prop 47 to adults and withholding them from juveniles. The appellate court did not take a position on these arguments.
We appreciate the successful appeal made by Alejandro N. and his attorneys, as it allows juveniles the same rights as enjoyed now by adults under Prop 47.
The citation for the Fourth Appellate District Court ruling discussed above is Alejandro N. v. Superior Court of San Diego Cnty. (4th App. Dist., 2015) 238 Cal.App.4th 1209.

For more information about Prop 47, click on the following articles:
Contact us.