Prop 47: Is Theft by False Pretenses Considered Shoplifting?
In 2013, Giovanni Gonzales stole two blank checks from his grandmother's checkbook, then wrote out checks to himself for $125 each, forged his grandmother's signature and cashed them at the bank for himself without her consent. Is this shoplifting?
What to Take Away: The California Supreme Court, in what we consider a counterintuitive opinion, held that since theft is larceny and Proposition 47 defines shoplifting as entering a commercial establishment during normal business hours with the intent to commit larceny, then theft by false pretenses in forging a check is shoplifting.

Most people would say no, this is not shoplifting. It is forgery and identity theft, perhaps even grand theft if the amount were higher because of the moderate level of sophistication. It was not a spontaneous crime or a lapse in judgment. However, under the definition of shoplifting under Proposition 47, it is. How can this be?
The following California Supreme Court opinion on this case explains this. After the grandmother's bank reported the unauthorized check cashing, police arrested Mr. Gonzales and charged him with felony second degree burglary (Penal Code § 459) and forgery (Penal Code § 476(a)) in an Imperial County Superior Court.
During plea negotiations, Mr. Gonzales pled guilty to burglary and the forgery count was dismissed. He was then placed on three years of formal probation.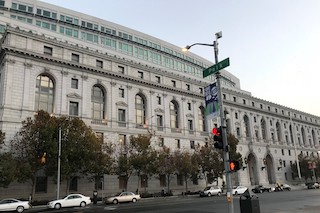 CA Supreme Court San Francisco
On November 5, 2014, voters passed Proposition 47, which allowed certain eligible felons to have their felony convictions for a very limited few felonies reclassified as misdemeanors. Prop 47 also redefined shoplifting as a misdemeanor under a new code section, Penal Code § 459.5, when the amount of the theft was $950 or less and the item taken was stolen during normal business hours. The manner of the theft is what has been the subject of great consternation, as shoplifting was defined as "entering an open commercial establishment during regular business hours with the intent to commit larceny of property worth $950 or less" (Penal Code § 459.5(a)).
Larceny includes larceny by trick, which involves fraudulently acquiring possession, but not title, of property.
People v. Williams
(2013) 57 Cal.4th 776, 783-784;
People v. Ashly
(1954) 42 Cal.2d 246, 258.
Mr. Gonzales then violated probation and, when he was brought to court for this, he petitioned for recall of his sentence and resentencing under Penal Code § 1170.18(a) (Prop 47).
The trial court denied his petition and the Court of Appeal for the Fourth Appellate District in San Diego affirmed.
The California Supreme Court then reversed, first citing to Penal Code § 490a to clarify that larceny is simply theft. Penal Code § 490a provides "[w]herever any law of statute of this state refers to or mentions larceny, embezzlement or stealing, said law or statute shall hereafter be read and interpreted as if the word 'theft' were substituted therefore."
The court then noted that under Prop 47, forging a check worth $950 or less would always be a misdemeanor, except if the offender commits identity theft (Penal Code § 530.5) in connection with forging a check. Penal Code § 473.
Here, Gonzales twice entered the bank to unlawfully take $125. While he also did intend to commit identity theft, arguably, by using the forged signature of his grandmother for his financial benefit, he also intended to take $125. So even if he committed shoplifting (as defined by the new § 459.5) and identity theft, he is supposed to be only charged with shoplifting.
People v. Garrett
(2016) 248 Cal.App.4th 82, 87-88. Alternate charging is not allowed under 459.5(b).
We think this opinion is going to create a great deal of criticism among prosecutors, as the dissent to the opinion by Justice Chin suggests. Justice Chin points out that cashing fraudulent check is not larceny. It is obtaining property by false pretenses. Entering a bank with the intent to obtain property by false pretenses is not entering a commercial establishment with the intent to commit larceny. Therefore, this was not shoplifting. This line of reasoning seems logical and we would predict that many lower level courts would like to adopt this rationale.
The citation for the California Supreme Court ruling discussed above is People v. Giovanni Gonzales (2017) 2 Cal.5th 858, 216 Cal. Rptr. 3d 285, 392 P. 3d 437.

For more information about Prop 47 issues, please click on the following articles:
Contact us.