Is Using a Stolen Credit Card Eligible for Prop 47 Relief?
As most experienced criminal defense attorneys will be quick to note, the difference between petty theft (Penal Code § 484) and commercial burglary (Penal Code § 459) is the time when defendant formed the intent to steal. In commercial burglary, the intent is formed before defendant enters the commercial establishment. In petty theft, there is no requirement that intent be formed prior to entering the store.
The Reader's Digest Version: Credit card fraud is eligible for relief, according to the Sixth Appellate District's ruling summarized herein, under Prop 47 when the value of the property taken or intended for being taken is less than $950.

Proposition 47 recognized that within the context of petty theft, there are different types of petty theft, shoplifting being the most common. Prop 47 thus carved out a specific definition of shoplifting at Penal Code § 459.5 to better describe this offense and distinguish it from commercial burglary. Penal Code § 459.5 defines shoplifting as "entering a commercial establishment with the intent to commit larceny." The value of the property covered by § 459.5 must not exceed $950. It is always a misdemeanor unless the suspect has certain prior convictions.
Proposition 47 allows someone convicted of a felony prior to the enactment of Prop 47 (November, 2014) to file a petition under Penal Code § 1170.18 to ask a judge to resentence the person to a misdemeanor. This provision has allowed many people to try to re-characterize certain crimes as shoplifting that really are not close to shoplifting. For example, people have attempted to have grand theft auto re-classified as misdemeanor shoplifting when the value of the car was less than $950. People have also tried to re-characterize embezzlement from their employer as shoplifting.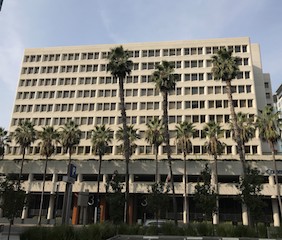 Court of Appeal Sixth Appellate District San Jose
Ryan James Garrett and Emily Mattern went to a convenience store at 2:00 a.m. They grabbed a stack of gift cards from a display and put them in their pockets, intending to pay for them with a stolen credit card.
Police had been looking for Mattern, as the court had issued an arrest warrant for her. They saw her red BMW parked outside the convenience store, so they pulled into the parking lot. Mattern saw the police parking and panicked. She threw a stolen wallet and a stolen credit card into the trash. Police then arrested Mattern.
In the red BMW, police found a backpack and cell phone belonging to Garrett. The backpack had three canisters of pepper spray, a large metal bolt cutter tool and a punch tool to break windows. On the cell phone, there were text messages negotiating the exchange of a $300 Macy's gift card for drugs. Garrett had a half-gram of heroin on him.
The Santa Cruz County District Attorney's office charged Garrett with commercial burglary (PC § 459), receiving stolen property (Penal Code § 496(a)), possession of heroin (Health and Safety Code § 11350(a)), misdemeanor identity theft (Penal Code § 530.5(c)(1)), and possession of tear gas by a felon (Penal Code § 22810(a)). Mr. Garrett had a prior "strike" conviction (Penal Code § 667(b) – (i)).
After three months, Garrett entered a no contest plea to commercial burglary and admitted the prior strike allegation. He was sentenced to 32 months in state prison. All remaining counts were dismissed. This was in June, 2014.
In November, 2014, voters passed Proposition 47, so one month later, Garrett filed a petition for resentencing under Proposition 47. The items that constituted the commercial burglary were two $25 gift cards he had taken at the convenience store.
The trial court denied the petition for resentencing, holding that because he and Mattern intended to use a stolen credit card to buy the gift cards, they intended to commit felony identity theft, not petty theft.
Garrett then appealed this ruling to the Sixth Appellate District. The Sixth Appellate court reversed, bluntly holding that "entering a commercial establishment with the intent to use a stolen credit card to purchase property valued at no more than $950 constitutes shoplifting under Penal Code § 459.5(a)."
The reasoning was that under Penal Code § 459.5 the statute says, notwithstanding Penal Code § 459, a person who enters a store "with intent to commit larceny" shall be punished as a misdemeanor if the value of the property taken is less than $950. Here, identity theft qualifies as larceny and $50 is less than $950. Unauthorized of a credit card is a type of theft and thus larceny.
We like this ruling as it does not carve out in "identity theft" exception to Prop 47, although it must be acknowledged that a crime of fraud is fundamentally different than simple theft.
The citation for the Sixth Appellate District Court ruling discussed above is People v. Ryan James Garrett (6th App. Dist., 2016) 248 Cal.App.4th 82.

For more information about Proposition 47, please click on the following articles:
Contact us.