Felony Second Burglary, Based on Fraud – Prop 47?
The Gist of this Article: Felony second degree burglary is not eligible for Prop 47 relief because Prop 47 does not specifically identify it as eligible for relief.

In 2011, Wen Chen went into a Los Angeles County Department of Motor Vehicles building and applied for a driver's license. When asked if he had ever applied for such a license before anywhere, he answered "no." The truth was that Chen already had and did use an Illinois driver's license using the name Yu Liu. The DMV discovered this and police were called to the DMV. Police then arrested Mr. Chen.
In January 2012, the People filed a criminal complaint charging Chen with perjury in the application for a driver's license (Penal Code § 118(a)) and second degree commercial burglary (Penal Code § 459). As to the second count, the complaint alleged that Chen entered the DMV, "a commercial building," with the intent "to commit larceny and any felony."
Chen then pled nolo contendere to Count 2 and the People dismissed the perjury charge. The trial court judge, Terry A. Bork, placed Chen on three years of formal probation on the condition that he serve 224 days in the county jail.
In November, 2014, Voters of California passed Proposition 47, which provides a mechanism for reduction of specified non-violent and non-serious felonies to a misdemeanor as long as the interested individual is not otherwise disqualified. It also created certain new misdemeanor crimes that largely overlay prior specified felony crimes.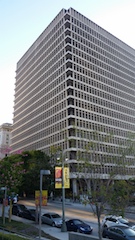 Clara Shortridge Foltz Criminal Courts Building CCB Downtown Los Angeles
For example, the new crime of shoplifting, Penal Code § 459.5, now displaces the prior felony of second degree burglary where defendant entered a commercial establishment with the intent to commit a theft involving property valued at less than $950.
Mr. Chen filed a petition to recall his felony second degree burglary conviction and to be resentenced on the charge of misdemeanor second degree burglary, Chen stated that he had been convicted of violating Penal Code § 459 and that "the amount in question is not more than $950." The People opposed Chen's petition, stating that the conduct underlying the burglary conviction was not theft per se, but "per jurious statements."
Judge Bork ordered the felony complaint to be "deemed amended" to allege Count 2 as the offense of misdemeanor second degree burglary, and thereon, declared Chen's conviction to be for misdemeanor second degree burglary. The court then vacated its order placing Chen on formal probation for three years and "converted" Chen to summary probation.
The People then appealed Judge Bork's ruling to the Second Appellate District, arguing that reduction of Chen's felony second degree burglary conviction is not authorized by Proposition 47.
The appellate court noted that under the burglary statute at the time of Chen's crime, the offense of second degree burglary was a "wobbler," meaning it could be charged as either a felony or a misdemeanor. Proposition 47, furthermore, made no changes to sections 459, 460 or 461, nor did reduce all prior felony second degree burglary offenses to misdemeanor second degree burglary offenses.
Proposition 47 added Penal Code § 1170.18(a) to the Penal Code. Subdivision (a) says "a person currently serving a sentence for a conviction… of a felony… who would have been guilty of a misdemeanor under the act… had this act been in effect at the time of the offense may petition for a recall of sentence before the trial court that entered the judgment of conviction in his or her case to request resentencing in accordance with sections 11350, 11357 or 11377 of the Health and Safety Code, or Section 459.5, 473, 476 a, 490.2, 496 or 666 as those sections have seen amended or added by this act."
The appellate court then noted that the offense of burglary as defined in section 459 is not one of the reduced offenses included in the text of Proposition 47 except to the extent that the new section of 459.5 applies.
The appellate court then noted that in Chen's case, there was no larceny of any kind involved. Chen was not convicted of an offense that is now reduced to a misdemeanor under Prop 47. Moreover, the offense of burglary, when charged as a felony under section 459, remains a felony following the passage of Prop 47 unless the theft involved less than $950.
Here, Chen was convicted of felony second degree burglary based on the entry into a building with the intent to commit the felony of perjury. It was not theft. Consequently, the appeals court found he was not eligible for Proposition 47 relief. Therefore, his petition was properly denied by the trial court judge.

The citation for the Second Appellate District Court ruling discussed above is People v. Wen Shen (2d App. Dist., 2016) 245 Cal.App.4th 322.

For more information about fraud and Prop 47, please click on the following articles:
Contact us.