Professional License & Duty to Self-Report an Arrest?
If you or a loved one has a professional license (doctor, dentist, lawyer, CPA, real estate broker, etc.) and suffer an arrest, there can be great anxiety in trying to know whether one must self-report the arrest to the appropriate state licensing authority. When is the deadline for reporting – one week? 30 days? What will happen next? What if no case is filed, but I have to explain the arrest? Will I lose my license to practice my profession? What will happen to my family financially?
Will the police separately report the arrest to my employer? What about the prosecutor?

The Gist of this Article: Self-reporting obligations vary greatly by professional license type and the level of the crime, so it good to look specifically into the duties for a certain license, as generalities may be misleading at best and often simply wrong.

The duty to self-report may not be triggered until one is convicted or charged and then it may depend upon whether the charge is a misdemeanor or a felony. This duty may even be triggered by a misdemeanor arrest and the failure to self-report can be itself problematic even if the underlying charge is not grounds for professional discipline (see, i.e., the board of acupuncture (16 Cal. Code Regs § 1399.469.2), the board of physical therapy (16 Cal. Code Regs § 1399.24), occupational therapy (16 Cal. Code Regs § 4149), behavioral science (social workers and therapists) (16 Cal. Code Regs § 1823), vocational nurses and psychiatric technicians (16 Cal. Code Regs § 2518.8), and speech-language pathologists and audiologists (16 Cal. Code Regs § 1339.156)). For registered nurses, failure to report a felony or a misdemeanor conviction within 30 days is itself considered unprofessional conduct (16 Cal. Code Regs § 1441(c)).
Agencies that do require self-reporting of felony charges and misdemeanor and felony convictions within 30 days include the Medical Board (Business & Professions Code § 802.1), the Board of Psychology (16 Cal. Code Regs § 1397.2), the Dental Board (16 Cal. Code Regs § 1018.05)), the Department of Real Estate ((Business & Professions Code § 10186.2), and the Department of Insurance (Insurance Code § 1729.2).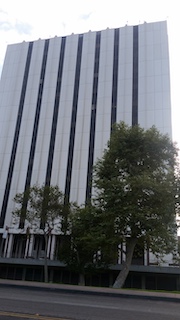 Compton Courthouse
Attorneys must self-report an indictment or information (charging a felony), as well as a conviction for any felony and certain misdemeanors within 30 days (Business & Professions Code § 6068(o)(4) – (5).

Accountants must report felony convictions and certain misdemeanor convictions (Business & Professions Code § 5063(a)(1)).
Pilots must report alcohol and drug-related driving convictions to the FAA within 60 days (14 C.F.R. § 61.15).
The prosecutor should notify the state agency regulating defendant's professional license at an early stage in the proceedings so the agency can take any action is deems necessary to promote the interests of justice and protect the public. The state agency has a right to furnish information, make recommendations regarding specific conditions of probation when the criminal proceeding is substantially related to the qualifications, functions, or duties of a licensee (Penal Code § 23).
If defendant is an attorney, the prosecutor must notify the State Bar and the court clerk immediately (Business & Professions Code § 6101(b)). It is worth mentioning that if the reader of this article is an attorney or the loved one of an attorney, discipline by the State Bar may be mitigated in certain cases by the attorney entering the Attorney Diversion or Attorney Assistance Program either voluntarily or by State Bar referral, as long as the investigation is "based primarily on the self-administration of drugs or alcohol or the illegal possession, prescription, or nonviolent procurement of drugs for self-administration, or on mental illness, and does not involve actual harm to the public or his or her clients" (Business & Professions Code § 6232(b)(3)).
If a felony is charged against a person licensed in the Healing Arts (listed in Division 2 of the Business & Professions Code), the prosecuting agency must notify the licensee's board (Business & Professions Code § 803.5(a)). The court clerk must transmit any felony preliminary hearing transcripts under 800 pages to the applicable allied health board and a probation officer must transmit a copy of any probation report generated for the court pursuant to Penal Code § 1203 (Business & Professions Code § 803.6). It the licensee is convicted, a certified copy of the conviction must be transmitted to the appropriate board by the court clerk within 48 hours (Business & Professions Code § 803.5).
For more information about professional licensing issues, please click on the following articles: