Licensing Consequences for an Attorney Convicted of a Crime
Chances are, if one is reading this article, he or she is an attorney anxiously facing a pending criminal case, a curious family member concerned about the future earnings capacity of the attorney or a law student facing a criminal case and worried about being barred from becoming an attorney.
Brief Synopsis: An attorney must report any misdemeanor or felony conviction to the State Bar within 30 days, or the filing of an indictment or an information against the attorney (Business & Professions Code § 6068(o)(4) – (5)). Therefore, hiring an experienced and competent criminal defense attorney as soon as one is even arrested is prudent, even when the charges may not involve moral turpitude and may not be substantially related to the duties, qualifications or functions of practicing law.

From the outset, it is important to note that a licensed attorney facing a pending felony case has duty to report this in writing to the State Bar Court. California Business & Professions Code § 6068(o)(4). The attorney must also report, in writing, a conviction for any offense in which a client was a victim, the crime involves moral turpitude or the attorney was involved in a conspiracy to commit a crime. California Business & Professions Code § 6068(o)(5).
District attorneys and court clerks also must report certain facts to the State Bar. California Business & Professions Code § 6101(b) and (c).
This duty raises the issue of whether the crime involves moral turpitude and how it is defined insofar as an attorney. The California Supreme Court has held that a crime of moral turpitude, either felony or misdemeanor, cannot be precisely defined.
In re
Lesansky
(2001) 25 Cal.4th 11, 16, 104 Cal.Rptr.2d 409.
Lesansky
held that criminal conduct reveals moral turpitude if it involves "such a serious breach of a duty owed to another or to society, or such a flagrant disrespect for the law or for societal norms, that knowledge of the attorney's conduct would be likely to undermine public confidence in and respect for the legal profession."
Lesansky
at 16.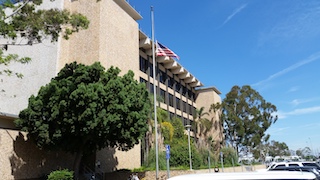 Torrance Courthouse
In other cases, the California Supreme Court has defined moral turpitude even more broadly as "a willingness to do evil."
People v. Castro
(1985) 38 Cal.3d 301, 211 Cal.Rptr. 719. It seems most every crime could be so classified.
From our perspective, consequently, it is best to know which cases courts have held do not involve moral turpitude. They are battery resulting in serious bodily injury (Penal Code § 243(d)), child endangerment (Penal Code § 273a), involuntary manslaughter, marijuana possession, maintaining a place for narcotics use, simple assault (Penal Code § 243(d)) and simple possession of a controlled substance.
Consequently, when selecting a criminal defense attorney to defend the accused attorney, it is not only wise to retain an experienced criminal defense attorney who regularly appears in the courthouse at issue, but one who has experience plea bargaining on behalf of an attorney to steer the case towards resolution for an offense that does not involve moral turpitude.
The attorney always should first and foremost evaluate if the case can be dismissed. The most common grounds are an improper traffic stop, an illegal search and seizure, a coerced confession, an admission elicited without first giving the client his or her
Miranda
warnings, if applicable, a delay in prosecution so as to violate the client's Sixth Amendment right to a speedy trial, police misconduct (racial profiling in the stop, destruction of evidence, fabrication of evidence) and prosecutorial misconduct, usually related to withholding evidence. There are various other grounds that are offense specific which commonly arise as well.
That same attorney, if the case cannot be dismissed, should attempt to resolve the matter to mitigate the punishment the State Bar Court might impose. This means the attorney ought to negotiate to replace custody time with community service within the legal field, rehabilitation classes (i.e. Alcoholics Anonymous, Narcotics Anonymous, Kleptomaniacs Anonymous, sexual compulsiveness classes, anger management classes, domestic violence batterers classes, anti-theft classes, animal cruelty classes, etc. as applicable), reduce restitution to a minimum if possible and seek to develop evidence that undermines the credibility of any victim. In other words, the criminal defense attorney can not only "soften" the harsh consequences of a conviction in criminal court, but hopefully help mitigate the grim administrative proceeding of the State Bar Court later.
It is important to note that while a plea of guilty or a conviction by a jury trial would both count as convictions for the State Bar Court, a plea of no contest and successful completion of a drug treatment program may also qualify as convictions. In addition, even an expunged conviction under Penal Code § 1203.4 counts as a conviction.
For this reason, once the criminal case seems to be heading toward a conviction, we recommend that the attorney also retain seasoned counsel experienced in appearing before the State Bar Court to defend attorneys. That counsel will have credibility and rapport with the State Bar Court and know what arguments in mitigation work best for your case.
For more information about facing a criminal case, diversion and state licensing issues, please click on the following articles:
Contact us.