California State Prisons
Prison Profile Lists for High Desert Prison (HDSP) to Mule Creek State Prison (MCSP)
HIGH DESERT PRISON (HDSP)
475-750 Rice Canyon Rd., Susanville, CA 96127, (530) 251-5100
This is a maximum-security prison in Northern California. It has an electrified fence surrounding the perimeter of its level III and IV facilities which provides a secure and cost-effective method for preventing escapes.
Susanville is located in far eastern California, with the closest city being Reno, Nevada about 100 miles south. The majority of the prison's roughly 3,000 inmate population is comprised of younger inmates who are serving long sentences and/or those who have proven to be management problems while in other prisons.
The prison offers vocational programs, educational programs, and work assignments for those inmates who are willing to participate (and if the prisoner finishes certain programs, may entitle the prisoner to increased custody credits under Prop 57). The prison is designed to house inmates with disabilities who require specialized placement to accommodate accessibility issues under the Americans with Disability Act (ADA).
The prison was completed in 1995. It is at 4,000 feet elevation, so it experiences cold winters, especially given its north-central California location just miles from the Nevada border.
Nevada has a prison within its state called the High Desert State Prison, too. It is located about 40 miles outside Las Vegas.
IRONWOOD STATE PRISON (ISP)
19005 Wiley's Well Road, Blythe, CA 92225, (760) 921-3000
Ironwood State Prison is located outside Blythe, south of the I-10 freeway, in an unincorporated area of Blythe. The city of Blythe is a small desert town, located about 200 miles from Los Angeles. It is past Palm Springs, past Indio, past Joshua Tree. The prison is adjacent to Chuckawalla State Prison.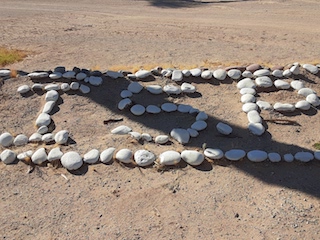 Ironwood State Prison
As of 31 December, 2012, it had an inmate population of 3,451, which is above its design capacity of 2,200. It is designed for minimum security and medium security inmates. The prison is fairly new, having been built in 1994. It lists its demographics of its population as 34% Hispanic, 22% Mexican, 20% Black, 14% White and 10% other.
KERN VALLEY STATE PRISON (KVSP)
3000 West Cecil Avenue, Delano, CA 93216-6000, (661) 721-6300
Kern Valley State Prison is a male-only, maximum level (Level IV) security prison. It is overcrowded and dangerous, as one would expect because it houses only Level IV inmates. In March of 2013, ten inmates there were stabbed in a mass riot there. There are roughly 4,200 inmates there, but the design capacity is just over 2,400 inmates. Delano (pronounce "Delayno," not "Dellano," like in Franklin Delano Roosevelt) is a small town, made famous during the days of Cesar Chavez as the location of his farm-worker strikes. It is about two hours north of Los Angeles, just off the I-5 on the way to Fresno. Delano is about 35 miles north of Bakersfield.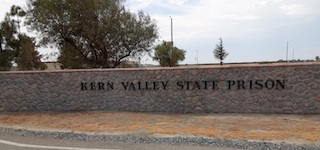 CA Kern Valley State Prison
The prison is very new, having just opened in June of 2005. KVSP is adjacent to the North Kern State Prison, so if one intends to visit an inmate at KVSP, it is important to be careful not to go to the North Kern State Prison instead.
MULE CREEK STATE PRISON (MCSP)
4001 Highway 104, Ione, CA 95640, (209) 274-4911
Mule Creek is a prison for Sensitive Needs Yards prisoners, which are those prisoners that, for their own safety, must be segregated from the general prison population. These include informants, former law enforcement, gang dropouts and sex offenders. Suge Knight, Geronimo Pratt, Lyle Menendez, Charles Manson and Charles "Tex" Watson have all served time at Mule Creek.
Ione, the city nearest Mule Creek, is about 100 miles east of Sacramento. As of January 1, 2013, the prison's population was about 3,100 inmates, or 180% of its design capacity of 1,700. In April, 2014, two inmates escaped, which made national news because of the notorious nature of the prison population.
The prison offers vocational programs in coffee roasting, textiles, meat processing and laundry, as well as self-help programs such as alcoholic anonymous, narcotics anonymous, criminal and gang members anonymous, gavel club, self-exploration through writing, parenting skills, anger management and various religious programs, which if completed, may entitle the prisoner to increased custody credits under Prop 57.
For North Kern State Prison (NKSP) to Pleasant Valley State Prison (PVSP) please click here.