California State Prisons
PRISON PROFILE LISTS FOR CALIFORNIA STATE PRISON, SACRAMENTO (SAC) TO CALIFORNIA SUBSTANCE ABUSE TREATMENT FACILITY AND STATE PRISON (SATF)
CALIFORNIA STATE PRISON, SACRAMENTO (SAC)
100 Prison Road, Represa, CA 95671, (916) 985-8610
This male-only prison is often called the "New Folsom" state prison in reference to its older and more famous neighboring prison, the Folsom State Prison. It is also called Sacramento State Prison, although the prison is really in Folsom. This newer prison, built in 1986, is next to the Folsom Dam and is about twenty miles northeast of Sacramento.
It held approximately 3,200 prisoners in 2007, but its design capacity is to hold just 1,788. After this, AB109 was passed and presumably, the overcrowding at New Folsom decreased.
The prison is organized into three similar, but separately contained areas, each with eight housing blocks and a recreation yard.
This prison houses those with long sentences or those who demonstrated earlier behavioral problems at other prisons. For example, Erik Menendez was sent there in 1986 to serve a sentence of life without the possibility of parole (LWOP). In 1999, he was married while serving time at this prison.
In 1996, there was a major fight there involving 150 inmates. Seventeen shots were fired and thirteen inmates were injured, including one being killed.
In 2011, there was another large-scale riot there, involving approximately 150 inmates. Two inmates were stabbed multiple times and taken to local hospitals. In 2015, there was another large riot at New Folsom and one prison died.
In 2005, there was a bill in Sacramento to transfer the death-row operations from San Quentin to Sacramento, but the bill was defeated.
CALIFORNIA STATE PRISON, SOLANO (SOL)
2100 Peabody Road, Vacaville, CA 95696, (707) 451-0182
Opened in 1984, this male-only prison is one of two prisons in Vacaville, very close to Travis Air Force Base. It is known as SOL and Solano State Prison. The prison is about midway between San Francisco and Sacramento - 45 miles from San Francisco and 35 miles from Sacramento. The other prison in Vacaville is the California Medical Facility, which is a prison offering medical care.
SOL, however, is more of a traditional prison, with a population of 5,050 in December, 2011. This number, however, has surely decreased due to AB109 and in fact, by March, 2018, the population had decreased to 3,766, which is still far above its design capacity of 2,610.
In 1998, the prison so was overcrowded that inmates were housed in triple bunks there, including inside the prison gyms. By 2009, such triple bunking had been removed and no one lived in the gyms anymore. The prison houses those on Level II and Level III only. No Level IV prisoners, the most dangerous and with the longest sentences, are housed at Solano State Prison.
The prison was also somewhat famous for a 2002 federal district court of appeals ruling that allowed Muslim inmates there to wear traditional, long beards and attend weekly Muslim services.
CALIFORNIA SUBSTANCE ABUSE TREATMENT FACILITY AND STATE PRISON, CORCORAN (SATF)
900 Quebec Avenue, Cororan, CA 93212, (559) 992-7100
This prison has been called "the largest addiction treatment center in the world." It is a male-only prison and is located about an hour north of Bakersfield, up Route 99. The facility has two identical treatment facilities, each with 739 beds. In the program, inmates undergo at least 20 hours a week of individual and group substance abuse counseling, addiction education, relapse prevention, living skills workshops, anger management, conflict resolution and even a class called, "identification and change of the criminal thought processes."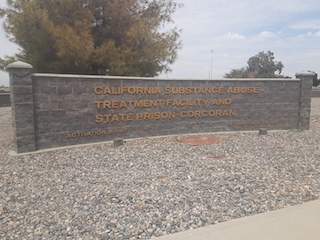 CA State Substance Abuse Treatment Facility and State Prison Corcoran
The prison opened in 1997. Phil Spector, the famous music producer known for his "Wall of Sound" innovation, is currently serving a 19 year to life term there after his 2009 conviction for murder. Robert Downey, Jr., served a three-year sentence there in 1999 to 2000 (completed in one year) for a parole violation from a 1996 conviction.
For Prison Profile Lists for Central California Women's Facility (CCWF) to Correctional Training Facility (CTF) please click here.