California State Prisons
PRISON PROFILE LISTS FOR CENTRAL CALIFORNIA WOMEN'S FACILITY (CCWF) TO CORRECTIONAL TRAINING FACILITY (CTF)
CENTRAL CALIFORNIA WOMEN'S FACILITY (CCWF)
23370 Road 22, Chowchilla, CA 93610 (559) 665-5531
This female-only prison is located about 20 miles north of Fresno along Route 90, north of Madera. It is across the road from Valley State Prison, a male-only state prison. Chowchilla, as it is known, had 2,800 inmates as of March, 2012. Its design capacity was 2,004, so it is overcrowded.
It holds prisoners of all security levels, including those with death sentences ("Death Row"). There are now about 20 such prisoners on Death Row at Chowchilla, the only prison within California with female Death Row inmates.
The prison opened in 1990. It provides inmate academic education, work and vocational training, counseling and specialized training for reintegration of prisoners back into society. Thirty-one percent of the guards at Chowchilla are female.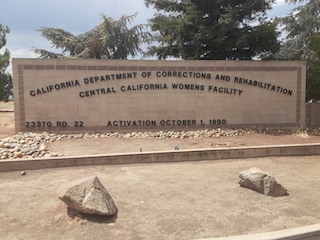 Central California Women's Facility
The prison has been the subject of recurring claims of inadequate health care and medical services. It is unclear if the prison truly has inadequate care for its prisoners, but the sheer number of lawsuits claiming this seems to suggest this is so at some level.
Some of the more famous Chowchilla inmates included Susan Atkins, an associate of Charles Manson. She died at Chowchilla of brain cancer in 2009. Judy Wong, the former mayor and the first Chinese-American city council member in Temple City, served time at Chowchilla for her role in a multi-million-dollar corruption scheme. She was released in 2011.
CHUCKAWALLA VALLEY STATE PRISON (CVSP)
19025 Wiley's Well Road, Blythe, CA 92225 (760) 922-5300
Chuckawalla Valley State Prison, also known as just Chuckawalla, is located near Blythe, California. This is a solid four-hour drive from Los Angeles, out along the I-10 and almost at the Arizona border with the Colorado River. The prison itself is south of the I-10 highway. The city of San Bernardino is 170 miles west.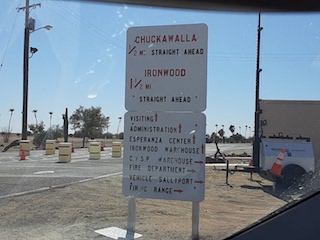 Chuckawalla Valley State Prison
Chuckawalla is located adjacent to Ironwood State Prison. It is a Level II, medium-security prison. As of 2016, CVSP Facilities have been designated as "SNY," or Special Needs Yards. These are reserved for sex offenders, gang drop-outs and former law enforcement,
Although the prison was designed to hold 1,738 prisoners, it held 3,222 in 2009. This population, however, most likely decreased since then due to AB109. In the summer, the temperature can approach 120 degrees. The prison opened in 1988. The facility is for Level II inmates, which are medium security prisoners. These can include sex offenders, gang drop-outs, former law enforcement and "others whose needs cannot be met in the general population."
CORRECTIONAL TRAINING FACILITY (CTF)
Highway 101 North, Soledad, CA 93960, (831) 678-3951
Also known at simply "Soledad," CTF is just off the 101 Freeway south of Monterrey. It is a solid five hours north of Los Angeles, heading up the 5 through Bakersfield and then heading west to Paso Robles, before joining up with the 101 to head north again.
Soledad is well-known for its brutality, as Sirhan Sirhan, the assassin of Robert F. Kennedy was housed at Soledad, and Juan Carona, the Mexican serial killer of at least 25 farm workers was also housed there.
In December, 2012, it had over 5,600 inmates, even after AB109 took full effect. The prison is supposed to be for minimum (Level I) and medium-security (Level II) prisoners. It has a design capacity of just over 3,300 prisoners. The facility itself is separated into three areas, a North Facility, Central Facility and South Facility. The South Facility was opened in 1946, so it is very old. The Central Facility was opened in 1951; the North in 1958.
Three prison guards were killed at the Central Facility in 1970 and 1971, which is many years ago, but the facility still has a reputation for being a tense place. In 2012, there was a riot at the prison, for example, and 18 prisoners were injured although over 160 inmates participated in the brawl. This is a tough place to serve time.
For Prison Profile Lists for Deuel Vocational Institute (DVI) to Folsom State Prison (FSP) please click here.