California State Prisons
PRISON PROFILE LISTS FOR CALIFORNIA STATE PRISON (CAL) TO CALIFORNIA STATE PRISON, LOS ANGELES COUNTY (LAC)
CALIFORNIA STATE PRISON (CAL)
7018 Blair Road, Calipatria, CA 92233, (760) 348-7000
This is a male-only prison located in Imperial County, in the far southern part of California. Calipatria is 184 feet below sea level and has summertime temperatures of up to 118 degrees. It is 23 miles north of El Centro, which is itself approximately two hours east of San Diego. The prison population was 4,180 in September, 2007, but that figure certainly went down due to AB109.

Calipatria State Prison

The prison has over 2,000 maximum security cells (Level IV) with an electrical fence surrounding that will instantaneous death to an escaping prisoner (and notoriously caused this to many birds that landed on it). The prison installed the "one of a kind" fence in 1993. The prison itself opened in January, 1992. The prison smells like cow manure due to large cattle feed lots nearby.
Angela Buono, the famous "Hillside Strangler," died at the prison in 2002. In 2005, there was a massive riot there, leaving 25 inmates and 25 staff wounded. One inmate died from a shot from a guard. The riot was apparently started by a Hispanic gang.
Earlier, in 1995, five inmates assaulted eight staff officers there. Jesse James Hollywood is a prisoner there right now, as well as Damian Williams, perhaps the most well-known of the attackers of Reginald Denny, who was injured during the Rodney King riots in 1991.
CALIFORNIA STATE PRISON, CENTINELA (CEN)
2302 West Brown Road, West Imperial, CA 92274, (760) 337-7900
This is a male-only prison in the desert in the far southeast corner of our state, near El Centro, California and the Mexican border. It is reached by either driving first down to San Diego and then east about two hours. In December, 2008, it had just over 5,000 inmates, with a design capacity of about half of that. Since then, however, due to AB109, the inmate numbers have surely reduced. This is a relatively newer prison, opening in 1993.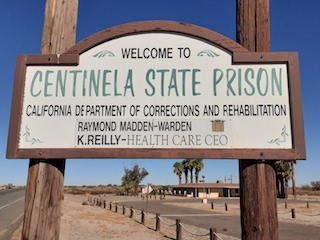 Centinela State Prison

If one were to escape from this prison, one would find oneself having to traverse over 15 miles of open desert to the next city. The facility is ringed by two sets of barbed wire fences.
CALIFORNIA STATE PRISON, CORCORAN (COR)
900 Quebec Avenue, Corcoran, CA 93212, (559) 992-7100
This is a male-only state prison located about one hour north of Bakersfield. It is home to Charles Manson and Juan Carona, a Mexican serial killer of 25 itinerant farm workers in the early seventies. He was sentenced to 25 life terms. Sirhan, the convicted murdered of Robert F. Kennedy, also was housed there from 1992 to 2009.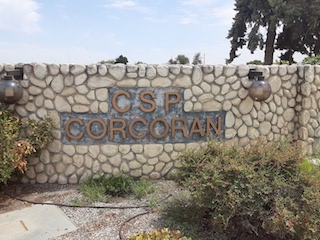 California State Prison Corcoran
In March of 2012, there were approximately 4,500 inmates there. The facility has a design capacity of just over 3,000. The prison is fairly new, having opened in 1988. The prison was notorious for fights and was featured in two MSNBC Lockup specials (Inside Corcoran (2003) and Return to Corcoran (2005)).
CALIFORNIA STATE PRISON, LOS ANGELES COUNTY (LAC)
44750 60th Street West, Lancaster, CA 93536, (661) 729-2000
This is a male-only prison that houses both minimum security and maximum-security inmates. It has a soap factory that inmates work in. It also is a re-entry hub with training in commercial plumbing, commercial painting, masonry and computer literacy. There were approximately 3,700 inmates there in late 2012, but the numbers have probably decreased due to AB109's effects.

CA State Prison LA County
The prison is relatively new, only opening in 1993. Four inmates escaped from the prison in 1993. The prison houses Brandon David McInerney, who murdered fellow gay classmate Larry King in 2008. McInerney was found guilty of second-degree murder, voluntary manslaughter and use of a firearm. He was sentenced to 21 years in prison. The facility also holds Rene "Boxer" Enriquez, a former high-ranking member of the Mexican Mafia for over 20 years.
For Prison Profile Lists for California State Prison, Sacramento (SAC) to California Substance Abuse Treatment Facility and State Prison (SATF) please click here.