California State Prisons
PRISON PROFILE LISTS FOR CALIFORNIA MEDICAL FACILITY (CMF) TO ALIFORNIA REHABILITATION CENTER (CRC)
CALIFORNIA MEDICAL FACILITY (CMF)
1600 California Drive, Vacaville, CA 95606, (707) 448-6841
This prison, specially designed for the medical and psychiatric needs of male felons in prison, has been around since 1955. It has a hospice unit for the terminally ill, as well as other acute care capacities. Vacaville is in Solano County, about half way between San Francisco and Sacramento. There is a second state prison in Vacaville, California State Prison Solano, which is newer than CMF.
CMF has the largest hospital among California prisons. The prison has a design capacity of just under 2,200 inmates, but houses close to 3,000. It has 1,853 staff members. It treats some patients with HIV / AIDS, as well as those with psychiatric care needs. It has been the subject of many investigations finding the facility is dirty and offers sub-standard care.
The prison is well-known for its "Blind Project," started in 1960, wherein inmates read audio books for the blind community outside the prison. It also is well-known for transcribing books into braille for the blind and repairing Perkins Braille Writers (typewriters for the blind).
Timothy Leary spent time at CMF in the early 1970 for possession of marijuana and after he escaped from the California Men's Colony, a minimum-security prison near San Luis Obispo.
Charles Manson spent nine years at Vacaville from 1976 to 1985, after being transferred there from Folsom. He left Vacaville and was then transferred to San Quentin. Bobby Beausoleil, a former associate of the Charles Manson "Family," who is serving a life sentence for the murder of music teacher and associate Gary Hinman on July 27, 1969, also spent time at CMF.
CALIFORNIA MEN'S COLONY (CMC)
Highway 1, San Luis Obispo, CA 93401, (805) 547-7900
This is a male-only minimum and medium level security prison located about half-way between Los Angeles and San Francisco. It is a large prison, with a design capacity of 3,828 inmates. In March of 2012, there were over 5,500 inmates there. This prison has been satirized as a country club because of its wide variety of vocational and educational programs. The prison has two
halves, one which opened in 1954 and the other in 1961.
Suge Knight started his prison sentence at CMC, but was later transferred to Mule Creek State Prison. Charles Keating, Jr., served time at CMC, as did Christian Brando, from 1996 to 2001. Timothy Leary famously escaped from CMC in 1970 with the help of the Weathermen. He then went overseas to Switzerland and Algeria before being arrested in Afghanistan and brought back to California, but not back to CMC. He instead was sent to CMF in Vacaville.
Bruce McGregor Davis, who was sentenced to two life terms in connection with the Manson Family murders, served time at CMC.
CALIFORNIA REHABILITATION CENTER (CRC)
5th Street, Norco, CA 92860, (909) 623-1481
This prison is located in Riverside County. It is medium level (Level II) facility housing about 4,200 inmates with a staff of about 1,200. It is supposed to be a rehabilitation prison, especially for narcotics offenders, but because of the overcrowding of other state prisons, the purpose of the prison has become less focused on rehabilitation over time.
It is known by many as "Norco" or "Norco Prison." It is located just off the 15 Freeway and next to the Naval Surface Warfare Center, Corona.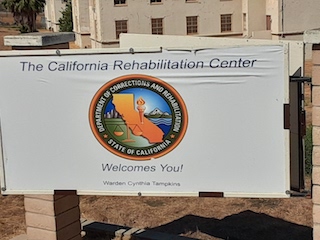 CA Rehabilitation Center
The prison has a rather interesting history, as its buildings first opened as a hotel for the rich and famous from Hollywood, but then transformed into a Navy hospital between 1941 and 1957, before becoming a prison as it is today. The first inmates arrived in 1963.
The facility has a colorful history as a prison, too, as Governor Arnold Schwarzenegger visited the prison and gave a speech there in 2007 citing its terrible overcrowding, ultimately leading to AB109 and less crowded prisons.
The prison at one time was rumored to be in such bad shape that whenever it rained, the prison would turn off its electricity to prevent inmates from being electrocuted.
For Prison Profile Lists for California State Prison (CAL) to California State Prison, Los Angeles County (LAC) please click here.