Potential Economic Loss Not Recoverable in Counterfeit Case
California Penal Code § 1202.4(r) governs the method for calculating restitution in fraudulent DVD and CD cases. This special section is separately stated because such counterfeit sales involve damage to the intellectual property of the owner or producer. This section is also noteworthy and distinguishable from other restitution provisions insofar as it allows the judge to award investigation expenses, which are otherwise not recoverable for other types of restitution.
Why This Article Matters: While restitution includes investigation costs in a criminal counterfeiting case and thus broadens the normal scope of restitution due to this more sophisticated case that can require more investigation to prosecute, the victim cannot recover potential economic loss. Restitution remains limited in the traditional sense to losses actually suffered.

When Hector Garcia and Martin Avila were charged in 2009 with violating Penal Code § 653w(a) (failing to disclose the origin of a recording) and Penal Code § 350(a)(1), after the Los Angeles Police Department seized 3,935 music CD's and 17 music DVD's, Penal Code § 1202.4(r) guided the measurement of any restitution award.
Garcia and Avila were also found with two notebooks of pay-owe records and equipment for the manufacture and packaging of DVD's and CD's in their apartment.
Investigators also found 10,629 pirated DVD's. Many of the DVD's of films that had not yet been released on DVD format and were still in theatres. The Motion Picture Association of America (MPAA) assigned each an average wholesale price of $11.10 each.
A representative of the Recording Industry Association of America (RIAA) estimated the average wholesale price for the music CD's was $7.15 each and $8.84 for music DVD's.
Garcia and Avila were convicted of violating §§ 653w(a) and 350(a)(1). The trial court decided that the damages suffered by the MPAA and RIAA would be based on the sales made in the pay-owe sheets and the quantities of DVD's and CD's seized.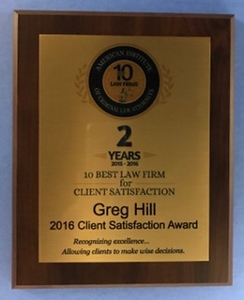 Counsel for Defendants argued that such a calculation would overstate the damages, as it would award both potential (based on inventory) and actual damages (based on pay-owe sales shown), which would represent a windfall to the MPAA and RIAA.
The trial court rejected Defendants' arguments, awarding the MPAA $173,847.60 and the RIAA $61,225.08. Defendants then appealed to the Second Appellate District.
In
People v. Avila
(2011 DJDAR 5545), the Second Appellate District reversed the trial court. In evaluating Penal Code § 1202.4(r), the Court looked to the literal text of 1202.4(r), which says damages must be calculated for a victim that "suffered economic loss." In noting this, the Court commented that in terms of the items seized, such items were never actually sold, so they did not displace any sales of the same items by the MPAA and RIAA.
To award such amounts would not be compensating a victim for a true loss, but would be punitive in nature. It would also be punishing Defendants for a potential, or hypothetical loss, which necessarily would be really just an estimate. While conceding that punishment is part of the deterrent intent of the statute, the Court found that a review of the legislative history of 1202.4(r) showed only economic loss suffered was supposed to be used in calculating restitution. Hence, potential sales could not be considered.
Accordingly, the Court reduced the restitution award to $87,113 in total, which had to make Defendants happy.
For more information about restitution awards, click on the following articles:
Restitution Order Can Apply To One Who Receives Stolen Property, But Does Not Participate in Burglary
For case summaries of selected white collar cases our firm has handled, click
here
.
Contact
Greg Hill & Associates