Possession of Burglary Tools – What Intent Required?
Over the years, we have seen several cases filed wherein the prosecutor alleges a violation of Penal Code § 466, possession of burglary tools, just based on our client being found in possession of a screwdriver, a razor blade or a "Slim Jim," a tool used to open a locked car door, often used by AAA to assist someone who locked their keys in their car.
Whenever we see this happen, we know that the prosecutor really does not know that more than just possession (or constructive possession) is needed to violate § 466. Indeed, for someone to be convicted of unlawful possession of burglary tools, the People must prove: "(1) possession by defendant; (2) tools within the purview of the statute [there is a long list]; and (3) with the intent to use the tools for the felonious purpose of breaking and entering." People v. Southard (2007) 152 Cal.App.4th 1079, 1084-1085.

Why This Article Matters: To be guilty of possession of burglary tools, one must possess such tools with the intent to use the tools to break and enter a building, car or other structure with the intent to commit a felony therein.

The California Supreme Court has clarified that the required intent is "to use an 'instrument or tool' to break or otherwise effectuate physical entry into a structure in order to commit theft or some other felony within the structure." In re H.W. (2019) 6 Cal.5th 1068, 1076.
Unfortunately, there is not yet a standard jury instruction on possession of burglary tools, so a judge will often ask the attorneys to prepare a jury instruction that helps guide jurors on evaluating the evidence for a violation of § 466. However, a "trial court has a sua sponte duty to instruct the jury on the essential elements of the charged offense" People v. Merritt (2017) 2 Cal.5th 819, 824. This means the judge has a duty to tell the jury what the law is on § 466 if the jury instruction offered is not sufficient.
It is against this background that the appellate court decision of Dylan James Bay is summarized here.
At about 2:00 a.m. on September 9, 2017, a Napa County Sheriff's deputy was on patrol when he spotted a Cadillac SUV parked illegally near a popular scenic overlook. The deputy approached and saw three people in the SUV. He asked Bay for identification and Bay said he did not have any. Bay then gave a false name. The deputy knew that Bay was on post-release community supervision (so he was a convicted felon) with standard search terms, so he asked him to exit the vehicle.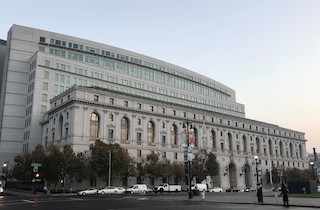 Court of Appeal First Appellate District San Francisco
The deputy asked Bay if there were any guns, knives or any other weapons in the vehicle. Bay said "not that I know of." The officer then patted down Bay and found his wallet, which had his identification in it. The officer then searched the vehicle and found a loaded .380 caliber gun, boxes of ammunition, a butterfly knife, marijuana (this was after Prop 64 passed in November, 2016), a lock pick set, a bong and a hypodermic needle. The registered owner of the gun was none of the three people in the SUV.

Bay was then charged with being a felon in possession of a firearm (Penal Code § 29800(a)), being a felon in possession of ammunition (Penal Code § 30305(a)) (both felonies) and three misdemeanors – providing false information to a police officer (Penal Code § 148.9), possession of burglary tools (Penal Code § 466) and carrying a switchblade knife (Penal Code § 21510). It was also alleged that he served two prior prison terms under Penal Code § 667.5, making him eligible for a one-year sentence enhancement for each prison prior less than five years old.
The jury acquitted Bay of carrying a switchblade, but convicted him on all other counts. The judge denied probation and sentenced Bay to three years and eight months in prison.
Bay then appealed the verdict and sentence on multiple grounds, but this article will just focus on his argument that the special jury instruction given to the jury lacked the requirement of possessing the tools with an intent to break and enter to commit a felony. This was simply not given to the jury.
The First Appellate District Court, in People v. Dylan James Bay (2019 DJDAR 9200) agreed and reversed the conviction for possession of burglary tools. The sentence was thus vacated and the matter was remanded (sent back) to the trial court for resentencing consistent with the reversal of this conviction. The verdict and sentence were otherwise affirmed.
We offer this summary because possession of burglary tools is one of those allegations that prosecutors often bungle, as this appellate court decision exemplifies.
The citation for the First Appellate District Court ruling discussed above is People v. Dylan James Bay (1st App. Dist., 2019) 40 Cal.App.5th 126.
For more information about possession of burglary tools, shoplifting and burglary, please click on the following articles:
Contact us.