Pomona Police Department
490 W. Mission Blvd.
Pomona, CA 91766
Los Angeles County
Michael Olivieri, Police Chief
(909) 622-1241
Non-Emergency Calls
(909) 620-2155
General Information
About: The City of Pomona is named after the Roman goddess of fruit and was incorporated in 1888. The Pomona Police Department provides law enforcement services to the community which preserve and protect life and property. The Department enforces statutes, ordinances and laws for the city, county, state and federal governments. They focus on investigations, apprehending criminals and recovering stolen property. They work closely with the community to educate the public in crime prevention.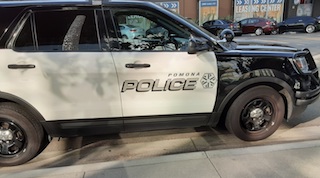 Pomona Police Cruiser
Below is the Google Map to the Pomona Police Department.