Pomona, Domestic Violence & Criminal Threats, Three Years
Our client and his wife had a difficult marriage, made more challenging with a newborn baby. Our client, in his early thirties, went to church every single day, but his wife did not accompany him. She was from Ecuador and seemed to spend an enormous amount of time on Facebook. She liked to post photographs of herself in various poses and then see how many "Likes" her photo would receive.
When our client saw that his wife had posted revealing photographs of herself on Facebook, he asked her to remove the photographs. He thought such photos suggested she was single or married, but interested in an extramarital affair.

The Gist of This Article: Client, already on informal probation for misdemeanor assault with a deadly weapon against his father-in-law, was arrested for felony domestic violence and criminal threats after he left voicemails for his wife saying he would kill her and bury her in the desert so no one would find her. Case filed in Pomona and resolved for three years in state prison.

She refused, saying to him that it was her right to post whatever she wanted. Our client did not know who his wife was communicating with, seemingly all day while he was at work, so he became suspicious that she was having an affair.
Finally, a small argument became a physical confrontation and he allegedly (according to his wife) strangled her and punched her.
Police were called to their Duarte apartment and our client was arrested. His wife seemed to take particular pleasure in the arrest, even handing the police tape recordings of voicemails he had left her, threatening to kill her and bury her in the desert where no one would ever find her. Such threats constituted criminal threats under Penal Code § 422. The punching and strangling constituted felony domestic violence under Pena Code § 273.5.
The case against our client was made more serious because our client was on probation for assault with a deadly weapon when he had thrown a metal tape measure at his father-in-law when he had spit on him. He had not yet completed the 52 anger management classes that were a term of his summary, or informal, probation for the assault with a deadly weapon case.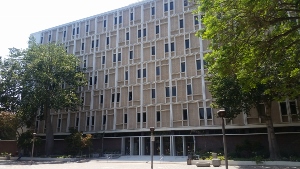 Pomona Superior Courthouse
The case against our client was filed in the Pomona Superior Court. The client initially faced one count of felony domestic violence (Penal Code § 273.5), one count of felony criminal threats and the probation violation. He initially hired a local attorney who was quite expensive.
However, our client became greatly disappointed in him, especially when at the preliminary hearing, our client's wife testified so that the prosecutor added one more count of felony criminal threats, another count of domestic violence (as against the wife) and a count of domestic violence against the couple's child (273a). Overnight, the client's potential prison sentence went from four years at 85% minimum time served (due to criminal threats, a strike offense) to twenty years and eight months at 85%.
The client fired his attorney and hired Greg Hill & Associates. Greg quickly wrote a lengthy letter to the Pomona District Attorney handling the case, explaining how the victim had a history of mental illness, violence against her husband and was quite interested in becoming a U.S. citizen to avoid having to return to Ecuador. She was therefore in favor of fabricating a claim of domestic violence to become eligible for U.S. citizenship. Otherwise, as the couple were divorcing, she could no longer stay in the U.S.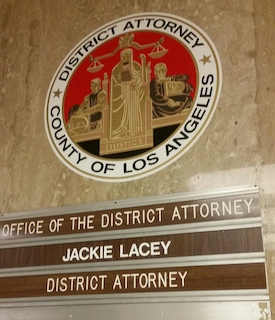 The District Attorney and Greg Hill negotiated for several months, finally reaching a deal where the client would serve just three years in state prison at a maximum of fifty percent time, mid-term on the domestic violence case and with a dismissal of the criminal threats charge.
The clincher in the negotiations was when Greg filed a Sentencing Brief on the probation violation matter, including many letters of support for the client from five individuals, and pointing out the mutual combat issues in the fight at issue. The prosecutor read this brief and it seemed to help move the plea negotiations to the three-year deal.
The client was overjoyed by the plea bargain reached and gladly entered into it, as even on the probation violation he faced three years alone, which the judge sentenced him to and ran it concurrent with the newer case.
For more information about what criminal threats are and about a probation violation, click on the following articles:
Watch our Video about Domestic Violence by clicking
here
.
Contact us
.