Police Decoy Use Prevents PC § 313.1 Conviction.
About This Article Briefly: A violation of Penal Code § 313.1, sending harmful matter to a minor, can only be violated by sending such matter to a true minor, not a police decoy who is not a minor posing as a minor. The intent of defendant to have a minor receive such images is irrelevant. A real minor must receive the images for there to be a crime.

In July 2017, San Francisco Police Department Sergeant Christopher Servat, a Special Victim Unit officer assigned to the Internet Crimes Against Children subunit, was working on an undercover operation to investigate individuals exploiting children online.
He created a fictional profile for "Briana" on Skout.com, a website where users can register and create profiles and meet other users to chat. There is a teenage community for those ages 13 to 17 and an adult community for users 18 and older.
"Briana" registered a birthdate that made her 18 years old so she would be in the adult community, but posted messages saying, "I'm not 18. I'm in high school." For her profile, he posted photographs of another officer, a female, when she was 12 and 14 years old.
In October 2017, David P. Collum, age 57, contacted Briana with the message "Hello, gorgeous." Days later, Briana responded and the two began chatting. Collum told her again and again that she was beautiful and that he'd love to meet her.

Collum then gave her his cell-phone number and asked for hers so he could text her instead because "this site is too wild." Briana gave him her cell phone number.
Briana then told Collum that she was only 14, but "I like older guys." Collum and Briana chatted more, exchanging "probably thousands" of texts (Servat estimated) and Collum then proposed that they spend a weekend together in San Francisco. Briana hesitated, saying it might be difficult with her mom.

Collum persisted, texting her a picture of an erect penis and other photographs of himself and telling Briana "You're hot baby," "I'll be your sugar daddy." He advised her to lock her phone so her mother could not see their texts. Collum texted "I can't wait to fuck you and make love to you."

Finally, Briana agreed to meet Collum and gave him a San Francisco street address where she would meet him. He then showed up and was arrested. A condom was found in his pocket.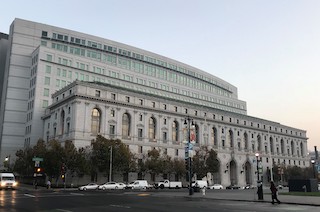 Court of Appeal First Appellate District San Francisco
Police seized his phone and later generated an "extraction report," which summarized information found on it, including the websites visited. The report also summarized searches he had made, which included for "nude teenagers in bed together," "16-year-old naked," "I'm a young girl attracted to older men" and other similar searches.
A San Francisco County jury convicted him of multiple counts of meeting a minor for lewd purposes (Penal Code § 288.4(b)), sending harmful matter to a minor (Penal Code § 313.1(a)) and arranging a meeting with a minor for lewd purposes (Penal Code § 288.4(a)(1)).
He appealed to the First Appellate District the convictions under Penal Code § 313.1(a), claiming there was insufficient evidence to find a violation of this section because it can only be violated when harmful matter is transmitted to a minor and not when, as here, such matter is transmitted to an adult posing as a minor.

The reader may wonder if such an argument would similarly apply to the sufficiency of the evidence presented for the jury to convict Collum of violating Penal Code § 288.4(b) and / or Penal Code § 288.4(a)(1). The answer is no, as these statutes focus on the defendant's attempts and beliefs about who he believed he was about to meet and not on whether the "girl" was truly a minor. The inclusion in the crime of an attempt allows a conviction even when the meeting is not with an actual minor, i.e., a police decoy.
Section 313.1(a), however, is distinguishable from 288.4(a)(1) and 288.4(b), the First Appellate District explained, commenting that the scope of the crime does not include an attempt. Furthermore, it found no precedent that had conducted the statutory interpretation other cases had similarly performed for violations of 288.4(a)(1) and 288.4(b), which had focused on defendant's attempt, beliefs in the age of the "girl" and intent.
Penal Code § 313.1(a), however, is written in a different way than these other two statutes mentioned above. The First Appellate District determined that under its plain meaning, by its text, § 313.1(a) could only be violated when the harmful material is truly distributed to an actual minor, not an adult posing as one.

Here, Collum believed he was sending a photograph of an erect penis to a fourteen-year old, but in fact, he was sending it to San Francisco Police Sergeant Christopher Servat, who was not a minor.

We present this short article not so much to ridicule the police or prosecution for failing to reach a conviction on the 313.1(a) count, but to more broadly educate the reader on the other similar crimes involved, which include within their scope the attempt to meet someone that defendant believes is a minor as a crime.

No citation is available for the 2020 First Appellate District Court ruling discussed above in People v. David P. Collum.

For more information about meeting a minor for lewd purposes, please click on the following articles: