Petition for Factual Innocence (PFI) under PC 851.8 Denied
When a person has been arrested, but charges are then dismissed or never filed, the accused may petition the court for a finding that he or she was factually innocent. This request is called a Petition for Factual Innocence, or PFI. Penal Code § 851.8 (c) provides for this.
Brief of Article: Appeals court affirms denial of Petition for Factual Innocence (PFI) after case dismissed at preliminary hearing. This case summary exemplifies how tough it is to have a PFI granted. As stated by the appellate court, the burden is "incredibly high."

This procedure is often looked upon on a way for a person to "clear their name" and restore their reputation, or "get in the last word" as to an accuser's credibility.
However, there is a significant amount of misunderstanding about how easy it is to have a court grant such a petition. It is not easy, as this article will describe. Indeed, just because someone is not proven guilty, does not mean, they are actually innocent.
In any court hearing to determine factual innocence, the initial burden of proof rests with the accused to show no reasonable cause exists to believe the accused committed the offense for which the arrest was made. This is a pretty high standard, we think. Some courts believe they must have "no doubt" that the accused was innocent.
First Appellate District San Francisco

The case of People v. XYZ (whose name we remove out of respect for him and his reputation) (2013) 213 Cal. App. 4th 1449 is a good example. Mr. XYZ was arrested, and charged with continuous sexual abuse of child in violation of Penal Code § 285.5. At the preliminary hearing in Alameda County, the judge dismissed the case because he found the credibility of the accuser, now fifteen years old, insufficient to bind the matter over for trial. He cited inconsistencies in her testimony and was apparently influenced by her admission that she did not know anything had happened to her until she watched a few episodes of "Law and Order" and learned about the crime. The People did not refile charges against Mr. XYZ.
Mr. XYZ then petitioned the court under Penal Code § 851.8(c) for a determination of his factual innocence. XYZ argued that because the court had found no probable cause to hold him to answer after the preliminary hearing, there was no "reasonable cause" within the meaning of section 851.8 to believe he had committed the charged offense.
The prosecution opposed the petition, arguing that the standard for demonstrating factual innocence under section 851.8 was more demanding that the standard for holding a defendant to answer at the preliminary hearing ("probable or sufficient case" or "reasonable suspicion").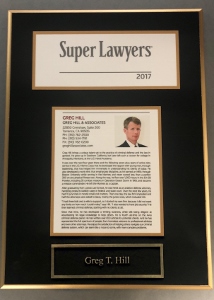 The judge denied the petition. The court stated that the burden for demonstrating factual innocence is "incredibly high" because petitioner must show there is "no doubt whatsoever" that petitioner did not commit the offense at issue.
Mr. XYZ then appealed to the First Appellate District in
People v. XYZ
(2013 DJDAR 2592). The First Appellate District affirmed the trial court. In coming to its decision, the appellate court noted that an order discharging defendant for lack of probable cause at a preliminary hearing certainly does not prove factual innocence.
In addressing Mr. XYZ's main argument, that the "incredibly high" standard applied by the trial court was an error, the appellate court stated, "we find no error." In explaining this, the appellate court said that a petitioner must show that "they should never have subjected him or her to the compulsion of the criminal law because no objective factors justified official action. The record must exonerate, not merely raise a substantial question as to guilt."
Not surprisingly, we hope the reader understands that this ruling is quite bad for anyone seeking a determination of factual innocence in the future. We hope XYZ appeals this decision to the California's Supreme Court and the California Supreme Court reverses. We say this because section (b) of 851.8 states that the standard to be applied is that "no reasonable cause exists to believe the arrestee committed to offense", which is not a standard that should be characterized or regarded as "incredibly high."
"Incredibly high," we believe, locks shut the door barring ever allowing 851.8 relief. It is such a high standard that some judges may never grant a PFI again.

The citation for the Court of Appeals ruling discussed above is People v. XYZ (2013) 213 Cal.App.4th 1449.

For more information about post judgment relief, click on the following articles:
Contact
Greg Hill & Associates