No Cash Bail & Arraignment Deadline for One in Custody
California Penal Code § 825 provides that an accused "shall in all cases be taken before the magistrate without unnecessary delay, and, in any event, within 48 hours after his or her arrest, excluding Sundays and holidays."
The Gist of this Article: With cash bail being abolished, but with a requirement that probation quickly make a pretrial risk assessment to decide if a suspect must be held in jail or released - before the arraignment within 48 hours (under Penal Code § 825), we expect probation will err on the side of caution when under such time pressure and many will be detained in error past 48 hours. We also expect those in custody will try to discuss the case to be released, but this may ultimately be against their best interest as the suspect may inadvertently admit to facts needed by the prosecution.

This statute is California's codification of U.S. Supreme Court cases that have held that any unnecessary delay in the arraignment of an arrested subject will result in suppression of statements obtained from the accused during the delay. McNabb v. U.S. (1943) 318 U.S. 332, 63 S. Ct. 608; see also Federal Rule of Criminal Procedure 5(a) (the accused shall be arraigned "without unnecessary delay").
For example, if the arrest is on a Wednesday in California, however, no matter what time it was made, the defendant must be arraigned on Friday (unless it is a court holiday). Penal Code § 825(a)(2). There must be no unnecessary delay. Traditionally, an arraignment is not to only enter a plea of not guilty, no contest or guilty, but it also an opportunity to have a hearing on reduction of bail.
With the impending implementation of Senate Bill 10, abolishing cash bail, but requiring a pretrial risk assessment (at Penal Code § 1320.7), we see strict compliance with Penal Code § 825 and avoiding unnecessary delay as problematic. A pretrial risk assessment, after all, takes time. While this may not be a problem with most misdemeanor arrestees because they will be immediately released with a promise to appear in court at a later date, conducting a proper pretrial risk assessment may be tough within 48 hours if the misdemeanor arrestee is subject to one of the eleven exceptions to automatic release.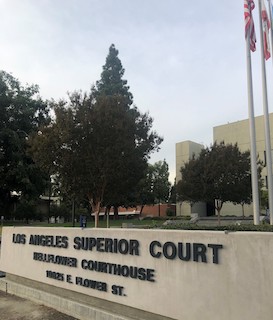 Bellflower Courthouse
After all, "necessary delay" does not include delay for the purpose of interrogating the suspect for the purpose of investigating the case or delay for the convenience of the police or prosecutor. Corley v. U.S. (2009) 556 U.S. 303, 308, 129 S. Ct. 1558; County of Riverside v. McLaughlin (1991) 500 U.S. 44. 56. 111 S/ Ct. 1661; People v. Thompson (1980) Cal.3d 303, 329; In re Michael E. (1980) 112 Cal.App.3d 74, 79. While none of these cases involve delay for purposes of the probation department to investigate the case, we believe the intent behind these cases would include probation department investigations such as for SB 10's required pretrial risk assessment.
With felony arrestees, the probation department will have to hustle even more to complete a proper pretrial risk assessment of each individual. This assessment's goal is to classify suspects not released automatically as "low risk," "medium risk" or "high risk" based on an algorithm that will assign a "risk score" to each felony arrestee. This score will numerically value a person's criminal history, history of not appearing in court, the crime for which the suspect is held and many other factors. Simply inputting this history for each arrestee is a going to be a challenge within 48 hours. When information is lacking, it may become necessary to question the suspect.
Doing so may require talking to the suspect to confirm his date of birth, spelling of his name and other identifying factors. This calls for statements from the accused and it is where McNabb, supra, will apply. Statements from the accused without any unnecessary delay will not be subject to suppression, but statements made by the accused may be subject to suppression.
To date, California has declined to adopt a strict standard favored in federal court, wherein postponing taking an accused to arraignment to have time to question him or her will result in suppression of any statements obtained. Mallory v. U.S. (1957) 354 U.S. 449, 77 S. Ct. 1356. However, with SB 10's requirement that there be a pretrial risk assessment, we see this requirement and the "Mallory-McNabb" rule inevitably colliding.
We foresee arrestees making statements during this pretrial risk assessment concerning the crime, without assistance of counsel, in order to be released. Such statements inevitably will include admissions, confessions and other compromising information that a good defense attorney will want suppressed.
Suppression on Fourth Amendment grounds of a confession elicited as the fruit of a period of unnecessary delay would be made under Penal Code § 1538.5. People v. Jenkins (2004) 122 Cal.App.4th 1160, 1174. To justify exclusion of the statement, defendant must show a causal connection between the delay and the statement. People v. Turner (1994) 8 Cal.4th 137, 176, Thompson, supra, at 329.
Unnecessary delay is also a factor in contributing to the involuntariness of a Miranda waiver (U.S. v. Wilson (9th Cir. 1988) 838 F.2d 1081, 1085) and the coercion of a confession for Fifth Amendment purposes (Turner, supra at 176).
An alert criminal defense attorney must be mindful of such statements made by his or her client when there are delays in the arraignment, which we believe will be commonplace once SB 10 and the abolition of money bail becomes effective October 1, 2019.
For more information about an arraignment, please click on the following articles:
Contact us.