New Crime Related Laws for 2015 to Keep in Mind Now
January 1, 2015 makes the beginning date of many new criminal laws.
The Gist of this Article: The following article is about new laws to become effective in 2015 including Prop 47, judicial diversion and allowing undocumented illegal aliens to get his or her non-comercial drivers license.

Most notably, Proposition 47 continues its sweeping effects since implemented on November 3, 2014, reducing felony theft cases involving shoplifting, forgeries, bad checks and other thefts from felonies to misdemeanors when the amount taken is $950 or less. Prop 47 also reduces most drug possession cases (specifically Health and Safety Code § 11350, 11357(a) and 11377) from a straight felony or wobbler to a misdemeanor.
The most significant effect perhaps of Prop 47 maybe that its benefits are retroactive to prior convictions and to change prison sentences to county jail sentences for those currently serving their sentences. Juvenile adjudications for such identified violations were not addressed by Proposition 47.
Only certain individuals, however, are eligible for Prop 47. For example, registered sex offenders and people with conviction of certain "super strikes" listed at Penal Code § 667(e)(2)(c)(iv) are not eligible for Prop 47 relief.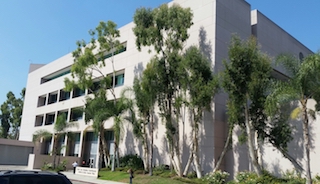 East LA Courthouse
In Los Angeles County, AB2124 became effective allowing the judge, in his or her discretion, to order informal diversion (entry of plea, but entry of judgment stayed) on certain low-level misdemeanors such as shoplifting, graffiti, vandalism, public urination, public intoxication, trespass and others, but not including DUI, sex offenders, or drug offenses where the individual has been previously allowed diversion. The new provision is added to our Penal Code at Penal Code §§ 1001.94 to 1001.98.
One of the most common offenses in our criminal courts is DUI. Prior to
January 1, 2015, DUI, or DUI causing injury (Vehicle Code § 23153), was a state prison felony or a wobbler if the individual had a prior felony DUI, DUI causing injury, or DUI vehicular manslaughter with gross negligence within ten years of the current DUI. The critical date is the date of the arrest on each DUI offense.
After January 1, 2015, AB2690 became law, amending Vehicle Code § 23550.5. It authorizes a state felony for a first-time DUI when the individual has a non-DUI prior vehicular manslaughter within ten years. The DUI laws, in other words, are getting tougher.
As the newspapers, television and radio have trumpeted, undocumented immigrants (i.e. non-citizens) are eligible to receive non-commercial driver's licenses. This bill, legislated at AB60, is thoroughly described on the DMV's home page. It is estimated that roughly 1.4 million undocumented persons may apply for such driver's licenses over the next few years.
While many undocumented immigrants have concerns that the DMV will make a public record of the applicant's information submitted under this bill, the bill states that such information can "only be disclosed as required by law," but does not state exactly what this is. However, the bill does prohibit use of the applicant's information to consider an individual's citizenship or immigration status for detention, arrest or criminal prosecutions.
A social security card, however, is still a requirement to get a commercial driver's license.
Advocates of the bill lauded its passage because all applicants must pass a driving test and written test, which will make our roads safer. It will also reduce the number of prosecutions for driving without a valid license, decrease the number of uninsured drivers and promote fuller employment of those previously not allowed employment due to lack of a driver's license.
Among the other new laws that may have broad effects are SB 1296 and Welfare and Institutions Code §§ 207 and 601 while adding Welfare and Institutions Code § 213.3 to take away a court's ability to jail a minor who is truant from school after being ordered to attend school.
In re Michael G.
(1988) 44 Cal. 3d 283 was the old law in this regard. In that case, the California Supreme Court held that a judge could confine a minor in a secure facility when the minor is found in contempt for disobeying an order to attend school. This case is thus legislatively overruled.
Of all the many laws that have widespread effect, perhaps none has more effect than SB 1027. This law addresses a long-neglected area concerning the commercial use of booking photographs. As many readers of this article may have experienced, there are literally several dozen websites that post mugshots online and then demand several hundred dollars to take the photograph off their website. SB 1027 prohibits the charging of such fees to take down the photographs, at least by those websites located in California.
For more information about the issues in this article, click on the following articles:
AB 2124 – The New Pilot Program for Diversion of First-Time, Low Level Offenders in Los Angeles County Only.
The Post-Release Community Supervision Act of 2011 Regarding New Drug Offenses Violates Prop 36, Court of Appeals Finds.
Contact us.