Murder Conviction Vacated When DA Expert Mistaken
The Gist of this Article: Conviction vacated in ruling on petition for writ of habeas corpus when defendant presents testimony of expert witness for the prosection recanting his trial testimony, wherein he opined that the cause of death was rape and sodomy. In response to the habeas petition, the People even conceded that the expert testimony at trial was false.

Vicente Benavides Figueroa was convicted of felony murder of a 21-month old girl. The conviction involved three counts of special circumstances for rape, sodomy and lewd conduct committed during the murder. The jury returned a verdict of death.
The young girl had been brought to the hospital by her mother, who said the little girl hit her head on a door when she was running after her sister. However, after medical personnel examined her, they found far more serious injuries to her internal organs. Surgery was performed to repair her bowel, duodenum and pancreas.
The morning after surgery, pediatrician Jess Diamond examined the little girl and found a tear to her hymen, a bruise on her perineum, swelling around her anus and a lack of rectal tone. Dr. Diamond testified at Figueroa's trial that these injuries resulted from "acute rape." He also testified that he believed she had been sodomized. The little girl died about a week later.
The forensic pathologist listed the little girl's cause of death as "blunt force penetrating injury of the anus," with the anus expanded to seven or eight times its normal size. The little girl also had five fractured ribs.

During trial, Figueroa had several medical doctors testify that they did not believe anal penetration was the cause of the little girl's injuries. They stated it was medically impossible. They further stated that the young girl's anus and genitalia condition was not caused by injury at all. They pointed out that when the young girl first came to the hospital, she showed no signs of sexual assault in vaginal or anal trauma.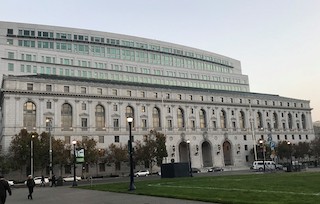 CA Supreme Court San Francisco
Instead, they opined, the injuries could be attributed to repeated failed efforts to insert a catheter, used of an adult-sized Foley catheter rather than a more appropriately sized, rectal temperature taking, use of paralytic medication and physical examination. They pointed out further that had there been any tears of her genitalia or anus, such tears would have worsened with time because edema would have stretched the skin and this was not observed.
Indeed, many of the medical professionals who testified at the trial for the prosecution later recanted their testimony. Dr. Diamond, the child abuse expert, later testified, "it is now my opinion to a high degree of medical certainty that Consuelo [the little girl] was not raped or sodomized."
Defendant Figueroa then filed a petition for writ of habeas corpus, based on the California Constitution, Article I, § 11 (see also People v. Duvall (1995) 9 Cal.4th 464, 474), claiming that his convictions were based on false evidence. Such an appeal is known as a collateral attack on the judgement.
In response, the People conceded that this was so. The California Supreme Court, in In re Vincente Benavides Figueroa (2018 DJDAR 2303) therefore vacated the judgement in its entirety.
The Supreme Court, or any court entertaining a habeas petition, usually orders an evidentiary hearing. However, "under unusual circumstances . . . the court may decline to order a hearing and simply decide the case." In re Hardy (2007) 41 Cal.4th 977, 990. In this case, the State expressly conceded that false evidence was admitted at trial and admitted crucial allegations by Mr. Figueroa which justified vacating the sexual assault convictions along with the attendant special circumstances and judgment of death.

In reading the opinion by the Supreme Court of California, we are reminded that while our judicial system strives to be perfect, it regularly falls short. The evidence in this case was false, but still admitted and a jury convicted Mr. Figueroa. Cross-examination of the medical experts hired by the State sadly was not the great truth detector at all.
The citation for the California Supreme Court ruling discussed above is In re Vincente Benavides Figueroa (2018) 4 Cal.5th 576.