Motion to Suppress Evidence from Car Near Shooting
In April 2015, Jamell Tousant's son, Jamell Tousant, Jr., was shot and killed as a result of possible gang violence in Oakland. To prevent retaliatory shootings, police assigned undercover police to the hospital where Jamell Tousant, Jr., was brought before he died.
One officer witnessed Jamell Tousant standing outside the hospital holding a long-barreled shotgun, an ammunition belt with shotgun rounds. He was agitated, loudly saying "Fuck the police."

Why This Article Matters: The following case exemplifies, we think, misapplication of the automobile exception to the warrant requirement. Here, a warrant certainly could have been obtained prior to the search, as the vehicle was not in danger of being driven away.

In investigating Jamell Tousant, Jr.'s murder, police interviewed Jamell Tousant and, sensing he might do something violent, told him not to take "matters into his own hands." Tousant nonetheless undertook his own investigation. He believed his son had a feud with the Five Finga Mafia, a gang in Berkeley. Tousant, Jr.'s friends confirmed this feud did exist and identified Nigel Blackwell and Kevin Greene as members of the Five Finga Mafia.
On the evening of August 15, 2015, four members of the Five Finga Mafia were standing outside a house in Berkeley. At this time, a white four-door vehicle pulled up in front of the house and a passenger fired 10 to 15 rounds toward the house where the four men had been standing. One of the men ran away despite being hit in the leg and a man from the white car jumped out and shot approximately ten more rounds at him.

A witness wrote down the license plate to the white car and gave it to police. It was Tousant's car. Cell phone records confirmed Tousant was near the shooting location at that time.
On the early morning of August 20, a man was backing out his car from his home at 4:30 a.m. to go to work. Someone jumped out from behind a car and started shooting at him, but did not injure him.
Police found Tousant's red Chevrolet Camaro rental car parked across the street, blocking a resident's driveway and only a few feet away from the shell casings. Police searched the car without a warrant and found Tousant's rental agreement for the car and his cellphone. One of Tousant's contacts had sent Tousant the address where the man backed his car out from.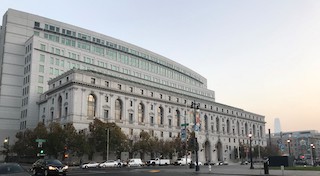 Court of Appeal First Appellate District San Francisco
In January 2016, police arrested Tousant and charged him with eight counts, including four counts of assault with a firearm (Penal Code § 245(a)(2)), two counts of shooting at an inhabited dwelling (Penal Code § 246), one count of possession of a firearm by a felon (Penal Code § 29800(a)(1), and several other counts.
After arresting him, Tousant admitted to being present, but not shooting, on August 15 and August 20 in the early morning hours.
Tousant filed a motion to suppress evidence gathered from the warrantless search of his rental car. The trial court judge denied the motion. The jury later convicted Tousant of all counts and the trial court judge sentenced Tousant to 22 years in state prison.
Tousant then appealed the ruling to the First Appellate District in San Francisco.

The First Appellate District began its analysis by noting that a warrantless search is presumptively unreasonable unless it falls within a "specifically established and well-delineated" exception to the warrant requirement. People v. Lopez (2019) 8 Cal. 5th 353, 359; U.S. Const., 4th Amend. "Evidence obtained from a search or seizure in violation of the Fourth Amendment must be excluded from use at a criminal trial only if required by federal law." People v. Barnes (2013) 216 Cal.App.4th 1508, 1513.
When there is a warrantless search, the prosecution must demonstrate a legal justification for the search. People v. Evans (2011) 200 Cal. App. 4th 735, 742.

The First Appellate District found the search of the red rental car without a warrant was justified under the automobile exception to the warrant requirement. This exception allows law enforcement to conduct a warrantless search of any area of a vehicle if there is probable cause to believe it contains evidence of criminal activity or contraband. People v. Lopez, supra, at 372; People v. Ross (1982) 456 U.S. 798, 799-800; California v. Carney (1985) 500 U.S. 565, 569 (there is less expectation of privacy in a vehicle than in a dwelling); California v. Acevedo (1985) 500 U.S. 565, 569 (vehicles are mobile, creating a risk evidence may be moved or lost while officers seek out a search warrant).
"Probable cause to search exists when, based on the totality of the circumstances . . . 'there is a fair probability that contraband or evidence of a crime will be found in a particular place.'" People v. Farley (2009) 46 Cal.4th 1053, 1098; Illinois v. Gates (1983) 462 U.S. 213, 230-239.
Here, the First Appellate District found the search was legal because the location of the red rental car, blocking a driveway, made its presence suspicious and neighbors did not recognize the car as belonging to anyone in the local area and its presence near the shell casings from the shootings just minutes before made the warrantless search justified.
The citation for the First Appellate District Court ruling discussed above is People v. Jamell Tousant (1st App. Dist., 2021) 64 Cal. App. 5th 804, 278 Cal. Rptr. 3d 900.

For more information about motions to suppress evidence, please click on the following articles: