May a Judge Compel Testimony from an SVP, but Not an NGI?
To an experienced criminal defense attorney, the terms SVP and NGI are acronyms that are quickly recognized. To those who are not as experienced, or not criminal defense attorneys, SVP stands for sexually violent predator and NGI stands for not guilty by reason of insanity.
In a Nutshell: An SVP, in his or her civil commitment proceeding, arguably can be compelled to testify in court, whereas a defendant who is NGI cannot be ordered to testify. The major reason is because an SVP proceeding is not criminal in nature, so the Fifth Amendment right against self-incrimination does not apply. However, in the following case, the First Appellate District found compelling an SVP to testify was an equal protection violation.

The rhetorical question in the title highlights the seemingly unequal latitude any NGI is afforded in a commitment extension hearing, wherein he or she cannot be forced to testify before a court or jury for evaluation of extending his or her commitment. Hudec v. Superior Court (2015) 60 Cal.4th 815, 826. When an SVP completes his or her prison term, that person faces a similar hearing to decide if further involuntary civil commitment at a hospital is necessary for public safety. People v. Field (2016) 1 Cal.App.5th 174, 181. However, in the SVP's civil proceeding, he or she does not enjoy a Fifth Amendment right against self-incrimination, so the SVP must testify.
This double standard was challenged to the First Appellate District by Scott D. Flint (in People v. Scott D. Flint (2018 DJDAR 3964)), who was committed to the custody of the California Department of State Hospitals for an indeterminate term after a jury found he was an SVP under the Sexually Violent Predators Act (Welfare & Institutions Code § 6600 et seq.). During that trial, the People called Flint as part of their case in chief.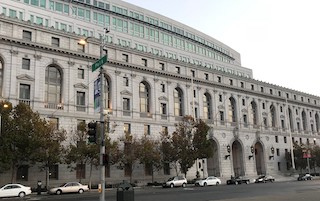 Court of Appeal First Appellate District San Francisco
A bit of background is helpful for understanding how the case arrived at such a civil trial at all for further commitment to a state hospital. In 1992, he was sentenced to eight years in state prison after pleading guilty to violating Penal Code § 288a (lewd and lascivious acts against someone under 14). In 1996, he was granted parole, but the next year pleaded guilty to another 288a case and was sentenced to eighteen years in state prison, to be released in August 2011.
In May 2011, the Mendocino County District Attorney filed a petition to involuntarily commit him as an SVP. Before the trial even took place, his attorney filed a motion in limine to prohibit the prosecution from calling him as a witness, arguing that it was an equal protection violation to compel an SVP to testify because the prosecution could not call an NGI or a juvenile in commitment extension hearings. The argument hinged on a judicial finding that an SVP, on one hand, and an NGI (and a juvenile), on the other hand, are similarly situated insofar as the consequences they face.
The trial court denied the motion, the prosecution called Flint to testify (and he did testify) and the jury found he was an SVP. The judge then ordered him committed to a state hospital for an indefinite term for treatment.
Flint then appealed the verdict, arguing that if he had not been compelled to testify, there is a reasonable probability that he would have achieved a more favorable result.
The key to Flint's argument to the First Appellate District was arguing there was not a sufficient justification for the unequal treatment between SVP's and NGI's. When the disparity implicates a fundamental right (such as the Fifth Amendment right to remain silent), the judge must apply strict scrutiny to the disparate treatment. People v. Wilkinson (2004) 33 Cal.4th 821, 836.
Looking further at the consequences of testifying and not testifying in court, the First Appellate District found no compelling reason at all to treat both classes of people differently: both were being evaluated for parole. There was no reason that the testimony of an NGI was less necessary than that of an SVP.
So the First Appellate District remanded (sent back) the case to the trial court to conduct an evidentiary hearing to determine if an SVP's testimony is more necessary than that of an NGI for purposes of further commitment.
We think there can be no reason why an SVP's testimony is necessary and an NGI's is not, so we believe the SVP commitment trial for Mr. Flint will take place again, but without him testifying.
The citation for the First Appellate District Court ruling discussed above is People v. Scott D. Flint (1st App. Dist., 2018) 22 Cal.App.5th 983.