Lynwood Prostitution, East LA Court, PDP & Dismissal
Our client was returning home from work along Broadway Avenue in Lynwood. He was heading northbound near 49th Street. He had no record for soliciting a prostitute (Penal Code § 647(b)) and had no reason to. He was 24 years old and recently married.
In 50 Words or Less, What Happened?: Client proposes to have sex with undercover cop along Broadway Avenue in Lynwood, East L.A. Courthouse, case resolved for prostitution diversion program (PDP) and dismissal.

However, one woman walking along the sidewalk caught his eye and he pulled over to talk to her. She was dressed in a black/brown striped miniskirt, a black and green colored top, black leggings and black boots. To our client, she did not look like a prostitute.
In fact, she was not. She was a vice cop, assigned to the area to curb what residents had described as rampant prostitute activity in the area. Her every move was monitored by her two partners, eager to arrest anyone who even spoke to her. The police officer wore a microphone that transmitted her every word back to the other police officers watching, as well as the sounds of anyone speaking to her.
Our client was one such person. He first asked her how she was doing and she bluntly replied, "what you want?" He was shocked by her question, but his response was equally clear: "a fuck and suck." Her response was "$40, meet me in the hotel, I already have a room. Room 121." Our client then pulled into the parking lot of the motel and was promptly arrested once he knocked on the door to Room 121 and entered.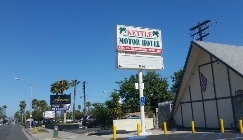 Motel in the City of Lynwood
While many prostitution cases involve ambiguous offers of sex in exchange for money or a failure of our client to take a substantial step towards consummating an exchange of money (or drugs) for sex, this case lacked such qualities. All elements of the crime were met in the brief conversation between our client and the decoy and our client's parking his car in the hotel parking lot and then proceeding up to the designated room was a substantial step.
Our client was extremely embarrassed and worried about the consequences of his lapse of judgment. He was quite worried about losing his job.
He called up Greg Hill & Associates and discussed the case facts with Greg Hill. After hearing the case facts, Greg commented that the main focus in this case, assuming the police report does not reveal anything better than we expected, would be "damage control" and getting the client the best plea bargain possible.
Greg then appeared in the East Los Angeles Superior Court on behalf of the client (the client did not need to appear in court) and negotiated a plea bargain in which our client would complete the prostitution diversion program (PDP), a one day program that cost $600, submit to an AIDS test and bring the results to Greg in a sealed envelope, along with the proof of having completed the program.
Greg then took the proof of the AIDS and the PDP program completion certificate to the court and the District Attorney there agreed to dismiss the case.
The client was pleased, as he believed his conduct left no doubt about his guilty and a conviction was a foregone conclusion. Instead, the case was dismissed after our client "earned a dismissal."
For more information about sex offenses and prostitution in specific, click on the following articles:
Watch our video about sex offenses by clicking
here
.
Contact us.