LWOP or Death Penalty OK If Defendant Knows Guns Involved?
The Eighth Amendment to the U.S. Constitution prohibits cruel and unusual punishment by the government. Hundreds, if not thousands, of judges have considered the death penalty and life-without-the-possibility-of-parole (LWOP) sentence as running afoul of the Eighth Amendment.

The Gist of this Article: This is an article showing application of the Clark case to a felony murder case out of the Clara Shortridge Foltz criminal courts building (CCB), which is part of the "major participant" analysis of a Banks-Clark petition for writ of habeas corpus and lays out the five-prong test that Clark describes.

This is especially true with the felony murder rule in California (until Senate Bill 1437 passed in late 2018, revising California's felony murder rule), wherein a defendant who does not actually shoot or inflict the blow that results in a murder is nonetheless sentenced to death or an LWOP sentence. This commonly has happened when a girlfriend or wife merely drives her boyfriend or husband to a liquor store, only to become the unwitting get-away driver after a murder takes place that she had no idea would occur. She could then face a death penalty or LWOP sentence under the felony-murder rule.

Senate Bill 1473 has sought to address this issue, but each case is individually scrutinized, so it is often difficult to generalize on what aggravating underlying facts of the crime or about defendant that a judge will find sufficient to permit such a sentence without violating the Eighth Amendment.
The case of Kaheal Jevon Parrish epitomizes how a LWOP sentence can be upheld by a court, in this case the Second Appellate Division is downtown Los Angeles (People v. Kaheal Jevon Parrish (2019 DJDAR 11071)).
On February 4, 2004, Parrish drove Earl Childs and Zack Gaines to a small grocery store in downtown Los Angeles. Parrish had given Childs a .380 handgun to use. In fact, Parrish and Gaines had gone to the market the day before to reconnoiter it for its ingress and egress routes, parking and the floor plan of the market.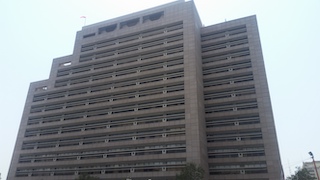 2nd Appellate District Court of Appeals
Parrish and Childs then entered the market and walked around, while Gaines waited in the car. Gaines then came into the market, complaining that Parrish and Childs needed to rob the market because he was tired of waiting. Childs then drew his gun and "announced the robbery."

Childs then ordered Parrish to search an employee for weapons and so Parrish jumped over the counter and searched an employee. He then saw the employee push a button that started an alarm.

Parrish then exclaimed, "She's calling the police!" Childs then inexplicably shot a customer in the head. Parrish, Childs and Gaines then left, with Parrish driving them away.
Parrish was later arrested and charged with murder under the felony-murder rule, with the underlying felony being robbery. He was convicted in a downtown Los Angeles court, Kathleen Kennedy presiding. The jury convicted Parrish of murder and Judge Kennedy sentenced him to life in prison without the possibility of parole.
Parrish argued under People v. Clark (2016) 63 Cal.App.4th 522 that it was unconstitutional to impose a death sentence on a safety-conscious mastermind just because his minion unexpectedly killed someone during a robbery. While Parrish was not sentenced to death, he argued his LWOP sentence was similarly too harsh.
Clark laid out two requirements for a judge to find the sentence is unconstitutional. First, defendant must be "minor participant." Here, Parrish was not any minor participant. He supplied the other defendant a gun, he cased the target, he entered the store to rob it, he searched a store employee for a gun, he announced the police were coming and he drove the get-away car to and from the market.
Second, Clark requires that a defendant lack "reckless disregard for human life." Did defendant have a "conscious disregard a substantial and unjustified risk to human life?" This mens rea or mental state is evaluated under a five-pronged test.

First, was Parrish ignorant of guns being involved in the robbery? No is the answer. He provided a gun and knew about the other two. The more guns, the greater the chance of gunfire and death.
Second, was Parrish physically absent from the robbery scenes? No is the answer. He was there from start to finish.
Third, did Parrish take steps to limit the duration and extent of interaction with innocents so as to minimize risk? No, the robbery was not planned for after closing time, for example as in Clark.
Fourth, did Parrish trust his cohorts to be peaceful? No is the answer. He gave one a gun and knew that individual was a longtime Crips gang member.

Fifth, did Parrish make efforts to minimize the risk of violence during the robbery? No is the answer here. He did not pause, for example, to see if the victim was dead and did not do anything to minimize the risk to others. After all, he provided a gun to another robber.
As such, the Second Appellate District denied Parrish's petition for habeas corpus.

The citation for the Second Appellate District Court ruling discussed above is In re Kaheal Jevon Parrish (2d App. Dist., 2019) 42 Cal.App.5th 788.

For more information about LWOP sentences and death penalty, please click on the following articles: