Long Beach, Receipt of Over $42K in Unemployment Benefits
Our client, then age 34, left his job after filing a claim with EDD (Employment Development Department) for disability payments due to anxiety. Over the next ten months, he received over $42,000 in payments.
In a Nutshell: Client receives over $42K in unemployment disability payments while working for six months; charged with violation of Insurance Code § 2101 and Penal Code § 487(a); case resolved for formal probation.

However, four months after beginning to receive payments, he found work and received pay from his new employer without advising EDD to stop paying him while being unemployed. Over the next six months, he received over $21,400 in payments from EDD that he should not have received.
When EDD discovered this double payment and questioned our client, he denied receiving pay from his current employer. He thereafter avoided an interview with the EDD investigator and refused to cooperate.
Finally, the EDD contacted the District Attorney's Office in Long Beach, which filed a felony complaint against him, alleging a violation of Insurance Code § 2101, Insurance Fraud, and Penal Code § 487(a), Grand Theft by Fraud. The DA's office then mailed our client a notice that a case had been filed against him and told him when to report to the court for his arraignment.
The client did not report to court as ordered. The date came and went. A bench warrant was then issued by the court.
His employer did a periodic background check on him and discovered the warrant. He was then fired when they discovered he was accused of a crime of dishonesty.
The client then called Greg Hill & Associates, wondering what to do. Greg Hill listened to the client's story and what happened. Greg advised him that restitution payments would be the most important factor in how the case would resolve. Greg advised that in his experience, prison would be avoided if he could reduce the balance owed to under $10,000.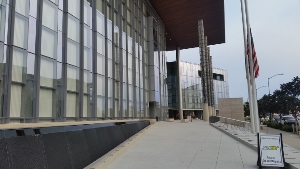 Governor George Deukmejian Courthouse
(Long Beach Superior Courthouse)
Greg then appeared with the client in the Long Beach Superior Court and had the bench warrant set aside. Greg then negotiated a lengthy delay in the proceeding for the client to gather up $10,000 to pay toward the outstanding balance. The agreement was that if he could repay this much, he would be allowed to enter a plea to both charges, but avoid any jail time.
The agreement would be that if he could then pay the balance ($11,432) in six months, he would be able to withdraw his plea to the Insurance Code violation and only the grand theft charge would remain. The value of such a plea was that if he could then stay out of trouble for six months, he would be placed on five years of formal probation with no jail time. If he completed probation with no problems, he would be able to apply to have the grand theft reduced to a misdemeanor and then expunged.
After six months, the client miraculously did come to court with money orders totaling $11,432. In accordance with the plea bargain, the plea he previously entered to the Insurance Code violation was indeed withdrawn. He was then ordered to report to the Long Beach probation department for five years of formal probation.
The Long Beach judge ordered probation to include a drug treatment program for our client, who had a methamphetamine habit, to prevent relapse and to keep him focused on living a drug-free life.
Meanwhile, the client had found new employment and was working regularly again. The client was extremely happy with the resolution of the case and being able to stay out of prison and jail so he could remain employable.
For more information about the issues in this theft offense case summary, click on the following article:
For more information about theft and robbery crimes, please click
here
to watch our theft offenses video.
Contact us.