Long Beach, Prostitution Sting, P.C. 647(b), Diversion
Our client, age 26, with no prior criminal history, responded to an advertisement for "Long Beach Escorts" on Backpage.com. The female pictured said her name was Jasmine and had "dreamy brown eyes." She provided her phone number.
As the reader of this summary may be aware, Backpage.com was taken down by the federal government in 2017 after it was determined to be a prolific source of income for prostitution services and human trafficking. However, at the time of this case summarized here, it was active and police regularly used it to operate stings, as in this case.
Overview: Prostitution sting in Long Beach, client arrested for allegedly violating PC § 647(b), prosecutor offers punishing plea bargain; Greg instead asks judge for diversion, judge agrees, case dismissed.

Our client texted the number, which went to a Long Beach Police Officer posing as Jasmine, the prostitute our client wanted to meet. The police officer directed our client to the Travelodge Motel on Atlantic Avenue for a "date."
Our client apologized for not having any cash, but offered to exchange an Amazon gift card worth $60 for sex for a half-hour. The police officer agreed. Prostitution can be committed by an agreement by one person to exchange anything of value (including food or drugs) in receipt of sex from another person and taking a substantial step in furtherance of the agreement.
Our client then drove to the hotel and went to the room number (a substantial step in furtherance of the agreement) provided by the decoy. It was a room connected to another room by an interior door.
Our client entered the hotel room and was met by a lady who did not look too much like the woman in the picture, our client told us later. This did not cause our client to become suspicious, however, at the time. He confirmed the exchange of sex for something of value, his Amazon gift card.
Once this was done, the interior door to the adjoining room opened and two male police officers stepped forward to arrest our client.
Our client was extremely ashamed and embarrassed.
After being released, he called Greg Hill & Associates. Greg spoke with the client, listening to the story of how the arrest took place and what the police officers told him.
Greg explained that there was a new program for judicial diversion only in Los Angeles County that would become effective on January 1, 2015, which was three and a half months later. Greg described the program and made sure the client was eligible. The assembly bill for it (AB 2124) had been passed recently and was designed for low level offenders with no misdemeanor convictions in the last ten years. Our client had no prior history, so he was not disqualified.
The program also did not apply for certain misdemeanor offenses, most notably those wherein the defendant would have to register as a sex offender under Penal Code § 290. A conviction for solicitation of prostitution (Penal Code § 647(b)) does not require this.
Greg then appeared at the arraignment, where the Long Beach City Prosecutor stated that she would resolve the case with no jail time for our client if he pled guilty to Penal Code § 647(b), at which time he would be placed on three years of informal, or summary probation, contingent upon his paying a $300 fine plus penalties and assessments and attending an AIDS Education class with testing. The offer was harsher than any offer ever made in a prostitution case that Greg had ever heard. Greg was shocked by the offer.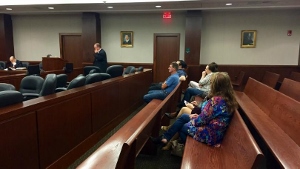 Two months later, Greg filed a motion for judicial diversion under AB 2124, which the judge granted, much to the disappointment of the prosecutor. The judge assigned our client to one year of judicial diversion, after which the case would be dismissed if our client attended the one-day prostitution diversion program (PDP) and performed ten days of Cal-Trans.
The client gladly accepted the judge's offer of judicial diversion, looking forward to having this case dismissed.
For more information about the issues in this case summary, click on the following articles:
Watch our video about sex offenses by clicking
here.
Contact us.