Long Beach, Felony Arson, Felony Vandalism, Misdemeanors
Our client, age 23, and his baby's mother did not get along. One day, the two got in an argument and the mother left for work. After she left, the two continued arguing over the phone.
Summary: Long Beach, client charged with felony arson and felony vandalism after burning girlfriend's clothes and kicking in her furniture, destroying it; case resolved for misdemeanor arson and vandalism.

Our client became enraged at his girlfriend and decided to let her know with more than words. He gathered up an armful of her clothing and took it to the kitchen, where he placed it over an open flame on the stove and burned it for about 20 seconds. He then went to her room and kicked her dresser so hard that it fell apart into about five pieces.
When his girlfriend's clothes were burned, neighbors smelled smoke and called 911. Our client then left, so when police arrived, police were unable to arrest him.
Eventually, our client was arrested and placed in jail, where he stayed for less than two days before his arraignment. On the date of his arraignment on felony charges, no case was filed, so our client was released from jail. Our client had no prior criminal record.
He then went to the police station to retrieve his cell phone. The arson detective warmly welcomed our client and asked him a few questions, assuring him three times distinctly that "the case is over. You have nothing to worry about." Our client even asked for confirmation, before answering the questions, "so like, nothing is going to happen?" The detective said "correct."
The client then confessed to starting the fire in a rage and kicking in his girlfriend's clothes. He was then immediately arrested. The phone had been used as bait to entice him to the police station and then police lied to him to get him to confess.
The client remained in custody for 45 days before bailing out. The initial offer was three years in state prison. Probation was not even offered.
Our office was retained and listened to the "confession tape" in shock. Greg immediately filed a motion to suppress the entire tape under Penal Code § 1538.5, as the officers had misrepresented the law. This is distinguishable from a misrepresentation of the facts, which is a proper investigation technique.
He also filed a motion to reclassify the case as a misdemeanor under Penal Code § 17(b)(4), due to the very minor nature of the "arson" and the fact that the five-year old dresser was worth far, far less than $400, which is the dividing line between felony and misdemeanor vandalism.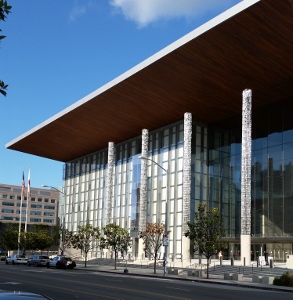 Governor George Deukmejian Courthouse
(Long Beach Courthouse)
The prosecution's response to the two motions was to offer our client a plea bargain to two misdemeanor charges, with five years of summary probation, fifty-two batterer's program classes, 100 days of Cal-Trans and a $500 fine, plus penalties and assessments (total payment would be approximately $2750).
Greg and the client were not happy with the new plea bargain. Greg was able to further negotiate the plea bargain down to fifty days of Cal-Trans and no fine whatsoever. The client accepted the plea bargain, happy to avoid state prison and able to get a job. He was also happy to avoid a felony on his record.
For more information about the issues in this case summary, click on the following articles:
Contact us.