Loitering for Purposes of Prostitution, Van Nuys, Diversion
Why This Case Summary Matters: Formal diversion offered in Van Nuys court for client, a DACA candidate, accused of loitering for purposes of prostitution (Penal Code § 653.22) after our client is observed talking to a woman dressed like a prostitute at 11:30 p.m. in an area known for prostitution activity. The woman then gets in our client's car and our client drives to a secluded area and parks. Woman tells police that she and our client were still negotiating a fee for sex when police arrived.

Our client, age 26, was stopped at about 11:30 p.m. by the Los Angeles Police Department in the area of Van Nuys along southbound Sepulveda Boulevard near its intersection with Valerio Street.

Officers were drawn to the intersection after seeing a young African American woman dressed in a very short orange dress, blue denim jacket, clear heels and a blouse with a low cut-off exposing much of her breast area. As officers described her conduct, they said she was standing on a corner of Sepulveda Boulevard, at a time when all the businesses had closed, and "appeared to be monitoring traffic, paying close attention to lone male motorists, without a sense of purpose."

The police report described the area of Sepulveda Boulevard as being known as an area known for its high prostitution activity, loitering for purposes of prostitution and lewd conduct activities.
Officers parked in a marked black and white police car, with overhead lights, on eastbound Valerio Street, facing toward Sepulveda, west of Noble Avenue, to monitor the African American woman.

Officers then observed our client drive toward them on Valerio and pull to the side of the street about ten feet from the African American woman.
The African American woman walked up to the front left window of the car and appeared to have a conversation with the driver, our client. The woman then got in the passenger side of the front seat of our client's car.
Our client then drove with his new passenger southbound on Sepulveda as LAPD officers followed him. Our client then turned left off Sepulveda and parked in a nearby residential area along the curb.
According to the police report, officers waited just about one minute after our client parked before they approached the car. One officer spoke with the woman and one officer spoke with our client, who explained he was just hanging out with the woman because he was bored.
The woman, age 20, had two active bench warrants and an open condom in her hand. She explained that our client had approached her and asked her if she was available for a "date," which means, in the street vernacular, sex in exchange for money. She replied that she was and he told her to "get in quick because there are lots of police around." However, the two "were not able to agree upon a deal" before officers interrupted them.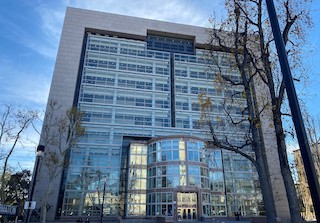 Van Nuys Courthouse
Based on the statements of the prostitute, our client was arrested on suspicion of violating Penal Code § 653.22(a), loitering for purposes of prostitution. Because no set price was agreed upon with the prostitute, he was not arrested for solicitation of prostitution (Penal Code § 647(b)).
The client was then transported to the Los Angeles Police Department station near the Van Nuys courthouse, booked and released with a signed promise to appear in the Van Nuys courthouse in about two months.
The client, who was not a U.S. Citizen and was a Deferred Action for Childhood Arrivals (DACA) applicant for citizenship was concerned about this arrest and the likely conviction as it might affect his DACA status. He called Greg Hill & Associates and spoke with Greg.
The client first explained what had happened and his DACA status. Greg explained that the client's DACA status would be jeopardized if he was convicted of a "significant misdemeanor," i.e., DUI, domestic violence or theft. Greg further explained how such cases are often resolved through the Los Angeles City Attorney as the prosecuting agency of such cases at the Van Nuys courthouse for formal diversion, although that was not guaranteed, especially in light of increased public awareness of the human trafficking operations that often involve prostitutes.
Greg was not sure if loitering for purposes of prostitution was a "significant misdemeanor," so he consulted with several immigration attorneys who specialized in DACA applicants. Each of the immigration attorneys (four) did not know, but one suggested that if the client were to be offered diversion on such a charge, it would be wise to enter the plea with a record being made that the client was entering such a plea to 653.22(a) on the understanding that it is "not a significant misdemeanor for purposes of DACA eligibility issues."
As Greg anticipated, the Los Angeles City Attorney did offer to resolve the case with a dismissal after formal diversion, but our client would have to enter a plea to a violation of Penal Code § 653.22(a) and then attend the Prostitution Diversion Program (PDP) and stay away from the Sepulveda Boulevard corridor near Valerio Street for a year.
The prosecutor would not agree to instead resolve the case on the same terms, but with a plea to trespassing or disturbing the peace, which Greg was advised are not "significant misdemeanors" for DACA purposes.
The client therefore did enter a no contest plea to 653.22(a), but Greg stated on the record that the client was doing so on the understanding that it was not a "significant misdemeanor" for DACA purposes just in case there were later immigration court consequences that the client needed to address.
For more information about prostitution, please click on the following articles: