Lancaster, Client Chokes Girlfriend, Has Brass Knuckles
Our client, age 30, had just completed a Prop 36 program, which many of our readers recognize as a drug treatment program usually associated with resolution of a criminal case to avoid a conviction.
He had resolved to turn his back on a life of illegal drugs. He was trying to find a job, but living with his girlfriend, who happened to be a chronic drug user. This obviously was not healthy for him, but he thought he could tolerate her and not fall back into using.
After a few weeks, however, he decided to break off the relationship. His girlfriend decided to throw a wrench in his plans.
In 50 Words or Less: Lancaster, client allegedly chokes girlfriend, later found with brass knuckles, violation of probation in two cases.

Our client's girlfriend fabricated a claim that our client had choked her. She then persuaded her friends (all drug users, too) to serve as witnesses against our client. The police came to the scene, but our client had already left. The Lancaster police talked to each witness and considered the case solid. Since our client had a prior conviction for domestic violence (Penal Code § 273.5), this case would be charged as a felony even though the injuries were quite minor.
The next day, our client was spotted sitting on a curb a few miles away. Lancaster police claimed a passing motorist saw him flashing a gun at drivers, so they asked him if he was on probation, which he was (on two separate cases).
Police then frisked him. In his left pocket, police found brass knuckles. This was a violation of Penal Code § 12020(a)(1), made worse because he was a convicted felon who was prohibited from possessing such weapons. This violation was charged as a felony, too, due to prior convictions our client had for concealed weapons.
The police did not find a gun because there was never such a gun.
Police took our client into custody and set bail at $100,000. Our client initially opted for the public defender, but became disappointed at the four year offer the public defender recommended after the Preliminary Hearing. So the client's family retained Greg Hill & Associates for a better result.
Greg Hill spoke with the client's mom, who described what she believed had taken place. She was quite aware of the alleged victim's history and why she was vindictive for her son's decision to break off the relationship.
Greg prepared two motions under Penal Code § 17(b), each to reduce the "wobbler" charges (the 12020(a)(1) and the 273.5 charge) from a felony charge to a misdemeanor. While our client understood that each motion would most likely be denied, he also understood that each motion would educate the Lancaster judge about the case, as well as show the District Attorney the weaknesses in the case. Perhaps more importantly, it would show commitment to the client, something the public defender never had, and the judge would want to reward this somehow.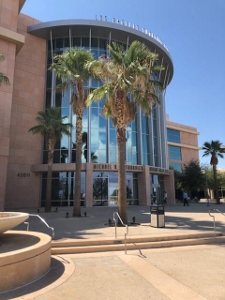 Lancaster Superior Courthouse

After several appearances and filing the two motions, the case was set for a hearing on the two motions. The District Attorney relented, offering a two-year, eight-month deal (low term on the domestic violence charge and mid-term on the brass knuckles charge). Our client accepted it. The judge then took the two motions off calendar and did not rule on either.
With "good time / work time" credits under Penal Code § 4019 for time already served and half time (actually four for two) in the future, he would be free in less than a year. This avoided a potential ten-year sentence on the above two charges and the two probation violation cases he faced.
The Lancaster judge praised Greg Hill for reaching a "very, very good deal" on the record, saying his work on the motions brought the prosecution to a minimum term offer, which was "laudable" because of the client's extensive criminal history reaching back to his time as a juvenile.
For more information about what probation violation issues, click on the following articles:
Watch our Video about Domestic Violence by clicking
here
.
Contact us
.