LA Municipal Code Violation, Fence Height, Case Dismissed
Our clients owned and lived in a home in the Hancock Park neighborhood of Los Angeles. The home was surrounded by a decades-old wrought iron fence, with a gate, that was about 46 inches tall and was consistent with the regal nature of their home.

One day, our clients received a notice in the mail that their fence, which was in place when our clients moved in about ten years earlier, was too high and was in violation of Los Angeles Municipal Code §§ 12.22c(20)(F)(2) and 12.22c(20)(F)(3), both misdemeanors. The notice was characterized as a warning that if the fence were not lowered or removed, the homeowners could face criminal prosecution, including punishment of up to six months in Los Angeles County Jail.
Our clients were not born in the United States and had only immigrated to the U.S. about fifteen years earlier. The notice caused them great anxiety, as they understood Los Angeles County Jail could be a dangerous place, especially for our clients who were well over 40 years old and had certain language difficulties with English.
The notice instructed our clients to reach out to a Hancock Park Preservation Overlay Zone (HPOZ) representative if they had questions, which our clients did immediately. While they did have a discussion with the HPOZ about the fence and trying to lower it, this involved getting a permit from the HPOZ and, if they chose to remove it, approval to do this from the Los Angeles Department of Building and Safety.
The process was made more difficult by COVID-19 because our clients could not meet face to face with anyone, so their language difficulties made things more stressful. Our clients at first wanted to just lower the fence by about five inches, but this required cutting of each wrought-iron fence upright and then reshaping it to preserve the character of the fence and this was quite expensive, as the fence was perhaps 70 meters in length.

Removing the fence seemed like a more practical, and less expensive option, but our clients could not communicate with the Los Angeles Department of Building and Safety. No one would return phone calls or emails.
This stalemate of frustratingly ineffective communication persisted for about six months with our clients making earnest efforts, but to no avail.
Finally, as the fence remained in place, the Los Angeles City Attorneys office filed a criminal complaint against our clients with three counts and sent them a letter advising them so, with a hearing date for the arraignment set.
The clients reached out to Greg Hill & Associates and spoke with Greg Hill, who had handled similar cases in the past.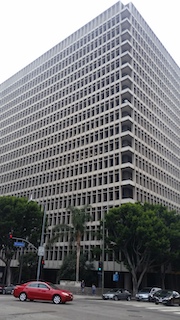 Clara Shortridge Foltz CCB
Greg first reached out to the Los Angeles City Attorney's Office and suggested that the matter be handled by an office hearing and, alternatively, that they would gladly and readily either lower the fence or remove it (and ask for a permit later) while paying any investigation fees (a form of a civil compromise to have the case dismissed).
The Los Angeles City Attorney's Office, due to Covid-19 staffing limitations, was unable to offer an office hearing, even telephonically, and did not respond to our alternative suggestion for resolution.
Consequently, Greg appeared in the Clara Shortridge Foltz criminal courts building and attempted to resolve the case there. By this time, our clients were quite concerned about jail time, despite Greg assuring them this would not result for a Los Angeles Municipal code violation for a fence, and they went ahead and contracted with a fencing company to remove the fence entirely.
While this process took some time, Greg advised the Los Angeles City Attorneys' office that our clients were removing the fence, the response was appreciation and an agreement to lower the misdemeanor charge to an infraction with a $50 fee. Our clients were happy with this resolution, but a bit frustrated that they would suffer any criminal record (even for an infraction) when they intended to cooperate from the outset of being notified about their fence being too high.
Greg carefully explained this frustration to the Los Angeles City Attorney's office, who was sympathetic to this situation and agreed to just dismiss the case in the interests of justice (Penal Code § 1385) upon seeing photographs of the home without the fence. The clients were happy with this final resolution.
For more information about the issues raised in this case summary, please click on the following articles: