Is Trademark Infringement an Aggravated Felony for Removal?
Jose Rodriguez-Valencia was convicted of six charges of "willfully manufacturing, intentionally selling and knowingly possessing" more than 1,000 items having a counterfeit trademark on them. Each charge was based on California Penal Code § 350(a)(2), which prohibits the manufacturing, intentional sale or knowing possession for sale of any item with a registered copyright or trademark, registered with the Secretary of State or the U.S. Patent and Trademark Office.
The Point of This Article: One who is not a legal resident can be deported after being convicted of criminal trademark infringement under California Penal Code § 350(a)(2) because this crime is considered an aggravated felony under federal law at 8 U.S.C. § 101(a)(43).

Mr. Rodriguez-Valencia, a Mexico native, is not a U.S. citizen. The Board of Immigration, acting upon the convictions, determined that his convictions constituted an aggravated felony under 8 U.S.C. § 101(a)(43)(R) as an offense "relating to counterfeiting." They therefore ruled that he was subject to removal.
The reader may be surprised to read that a sale of a counterfeit item is an 'aggravated felony." After all, it is not murder or rape or mayhem. However, the conduct was, like in rape, murder or mayhem, quite intentional and therefore, the mental state is similar to more violent crimes. Consequently, it did as an aggravated felony.
Rodriguez-Valencia appealed, arguing that, first, the term counterfeiting refers only to the imitation of currency and that, second, his conviction under Penal Code § 350 did not require proof of his intent to defraud. This argument, the reader may recognize, is a rather academic argument based on the history of counterfeiting and that section 350 indeed did not require the intent to defraud per se, but it did require the intent to sell a fake item, which could be seen certainly as intending to defraud.
In ruling on his appeal, in Jose Rodriguez-Valencia v. Eric H. Holder, Jr., DJDAR 11023 (July 21, 2011), the United States Court of Appeals for the Ninth Circuit disagreed. The court used as its starting point the 1990 case of Taylor v. United States, 495 U.S. 575 (1990), which defined what is an aggravated felony.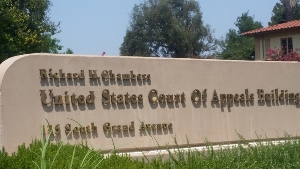 Taylor
had been further refined by a 2008 case from the Ninth Circuit called
Penuliar v. Mukasey
, 528 F.3d 603 (9th Cir. 2008), which said an offense is an aggravated felony only if the full range of conduct covered by the statute falls within the meaning of the term. The court then looked at how various courts had defined counterfeiting and agreed that at first, counterfeiting only referred to money.
However, over time, the term "counterfeiting" expanded to refer to improper use of court seals, federal agency seals, customs papers, ship's papers, passports and stamps. It then noted that in 1984, Congress criminalized trafficking in counterfeit goods in the Trademark Counterfeiting Act of 1984. Congress then attached stiff penalties to such conduct, which the court noted was broadly defined.
The court of appeals also noted that the First and Third Circuits have held that convictions for counterfeiting trademarks fell under 8 U.S.C. § 101(a)(43). Then looking to Rodriguez-Valencia's argument that he should not have been found to have intended to defraud anyone, the court of appeals quickly dispensed with this, noting that counterfeiting is an inherently fraudulent crime. After all, Rodriguez Valencia did not amass over 1,000 of such items just to collect them as a hobby because he had no other job. He had them for one purpose – to try to sell them to people. The court therefore denied the petition for review.
We present this case summary as a cautionary note to anyone defending a state court trademark infringement case under Penal Code § 350(a)(2) when the client is not a U.S. citizen. It is helpful to steer resolution of the case away from any offense that might be considered an aggravated felony.
In our experience, payment of investigation expenses can help, as well as surrendering any money seized by police in their investigation. Even if the client agrees to this, resolution for an offense that is not an aggravated felony can be difficult, especially if the prosecution takes into account the trademark owner's position or if the client was found in possession of dozens, hundreds or even thousands of trademark-protected items.
For more information about immigration consequences concerning various convictions, click on the following articles:
Immigration Consequences of a Plea to Misdemeanor Criminal Threats Are Not Grounds to Vacate a Judgment
For summaries of some of our case results, click
here
.
Contact
Greg Hill & Associates