Is Sentence Enhanced for Prior Hate Crime Conviction?
As one might surmise from the "Get Tough on Crime" era, someone punished under either Penal Code § 425.75(a) or § 425.75(b) for a felony hate crime will receive an additional one year term in state prison for each separate prior conviction for a felony hate crime.

The exception to this if for individuals punished for a prior serious or violent felony under Penal Code §§ 667 or 667.5 (listing of violent felonies). In other words, there is no "stacking" of this one year enhancement consecutive to an enhancement under 667 or 667.5. This is unlike most other sentence enhancements, which can be "stacked."
In a Nutshell: A sentence certainly is enhanced for a second or further violation of Penal Code § 422.75. Each further violation adds one extra year to the enhancement, however, this enhancement cannot be "stacked" onto other enhancements such as for a strike or a prior conviction for a serious (5 years) or violent (3 years if within 10 years) crime.

Under § 667(a), an individual who was previously convicted of a serious felony in California (those listed under Penal Code § 1192.7(c)) or in another state wherein the elements of the crime meet the requirements of a serious felony in California, shall receive an additional five year sentencer to run consecutive to the underlying sentence when the underlying felony is not a serious felony as well.

Under § 667(e)(1), the Three Strikes Law, for an individual with a single prior conviction for a violent felony listed under § 667.5(c) or a prior serious felony listed under § 1192.7(c) and having been convicted of a current offense that is a serious or violent felony, the sentence is doubled.

Under § 667(e)(2), if a person has two or more prior convictions for a violent or serious felony and, having been convicted of a further serious or violent felony, the court shall punish the individual with an indeterminate term of life in prison plus the greater of 25 years or three times the term for each current felony conviction.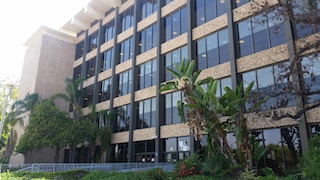 Torrance Courthouse
Under § 667.5(a), when an individual is convicted of a current violent offense, there is a three-year sentence enhancement for each prior conviction for a violent felony for which ten years did not pass after the individual completed probation or parole before committing the current offense.
Under § 667.5(b), as modified by Senate Bill 136 signed into law in October 2019, an individual who is a registered sex offender faces a one year sentence enhancement for a prior conviction that resulted in a prison sentence or a sentence in county jail under AB 109 (Penal Code § 1170(h)) and did not remain free of any crime for five years after completing parole or post-release community supervision before committing the current offense. A prior commitment to juvenile facility or a state mental facility "counts" as a prior prison term when the person is committed as a mentally disordered sex offender.
Turning back to the hate crime sentence enhancement, sentencing under § 422.75 to permit an additional one-year sentence, the prior conviction must be found true by the trier of fact (jury or the judge) or admitted as true by defendant. Such allegations must be alleged and proven at the preliminary hearing. People v. Superior Court (Mendella) 1983 33 Cal.3d 754, 764.

Proof of an alleged prior conviction will ordinarily involve presentation of evidence of the "record of conviction." See People v. Guerrero (1988) 44 Cal.3d 343, 355. The record of conviction may include the abstract of judgement, the state prison packet (Penal Code § 969b), the information and change of plea, trial, or sentencing hearing. Since the prosecutor need only establish the fact of the conviction and not the facts of the underlying conduct, the record of conviction will be offered for a nonhearsay purpose and no exception to the hearsay rule is required for the offered documents. People v. Delgado (2008) 43 Cal.4th 1059, 1072, footnote 6.
However, under Penal Code § 969a, amendment of the information (the complaint after the preliminary examination) may be permitted at any time upon their discovery. Nonetheless, because the same jury must decide both defendant's guilt and the truth of the alleged priors, as required by Penal Code § 1025(b), it would be an abuse of discretion by the judge to permit an amendment to the information to add one or more priors after the jury has been discharged. People v. Tindall (2000) 24 Cal.4th 767, 782.
A prior conviction for a hate crime may be alleged for each count of a current complaint, but the one year sentence enhancement generally should only be imposed once. Penal Code § 1170.1.
For more information about hate crimes, please click on the following articles: