Is Prop 64 Relief Viewed by Courts Narrowly or Broadly?
On November 8, 2016, California voters approved the Control, Regulate and Tax Adult Use of Marijuana Act, also known as Proposition 64 ("Prop 64"). This new law legalized recreational use of marijuana for adults and reduced certain penalties for possession, possession for sale and cultivation of marijuana for qualified individuals.
Brief Synopsis: One appellate court reviewing a request to reduce a felony to a misdemeanor under Prop 64 (summarized below) viewed the new law broadly, but we caution that other courts certainly may view its provisions narrowly and strictly, depending upon the facts of the specific case.

To qualify for reduction of one's felony record for a qualified marijuana-related offense under Prop 64, one maynot have any "super strike" convictions on one's record, one may not be a registered sex offender and, for some offenses, one may not have any prior drug-related convictions.
As time has passed since Prop 64 was passed, our courts have seen various cases where the limits of Prop 64 have been tested. One of the more recent cases, summarized as follows, is worth passing along.
In September, 2013, police in Ukiah executed a search warrant on a home in the city and found 107 pounds of marijuana, four grams of methamphetamine, drug paraphernalia, a vacuum-sealing device and 60 pounds of marijuana shake (less-than-perfect scraps of marijuana, usually left after the good buds are consumed). When police arrived at the house, William Roy Boatwright was walking out the front door.
Boatwright explained that he was just there helping a friend package the marijuana for sale. He was then arrested and charged in Mendocino Superior Court with possession of marijuana for sale (Health & Safety Code § 11379) and cultivation of marijuana (Health & Safety Code § 11378), both felonies. Boatwright had two prior prison terms, which were alleged as sentence enhancements applicable under Penal Code § 667.5(b).
Through plea bargaining, he resolved the case for a single count of accessory, Penal Code § 32, and both the sales and cultivation charges were dismissed.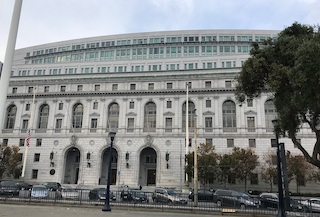 Court of Appeal First Appellate District San Francisco
Boatwright was placed on three years of formal probation, with credit for 228 days served in county jail up to the plea.
While on probation, he violated probation in various ways and was sentenced to 135 days in county jail. After his third probation violation, Prop 64 was passed and, in response, Boatwright's attorney filed a petition for postconviction relief to have his felony conviction under Penal Code § 32 reduced to a misdemeanor under Health & Safety Code §§ 11360 and 11361.8(a).
The Mendocino trial court judge denied the petition, explaining that "he's not specifically covered under Proposition 64 . . ." This comment was a reference to the listing of crimes covered by Proposition 64 under the new Health and Safety Code § 11070.18.
Boatwright appealed to the First Appellate District Courts of Appeal, which reversed the trial court. The First Appellate District (in Sacramento) struggled with the decision, noting People v. Medina (2018) 24 Cal.App.5th 61, 66, wherein a petitioner convicted of Penal Code § 32 had sought the same relief and been denied.
The First Appellate Court, however, distinguished Medina from Boatwright's case. In Medina, the conspiracy crime was a wobbler at the outset and it was charged as a felony. Application of Prop 64 did not mean that Medina would not be guilty of a lesser offense. Medina, at 66. In Medina, the underlying crime was a misdemeanor, wherein defendant had conspired to sell 35 pounds of marijuana.
In this case, the appellate court noted, Boatwright's role was much more minimal than in Medina, so reduction to a misdemeanor was appropriate.
We bring this case to the reader's attention because accessory liability is often overlooked in the context of the many new laws, i.e., not just Prop 64, but also Prop 47 (changing many low level felonies to misdemeanors), and yet, when it is evaluated, it is not an automatic reduction to a misdemeanor, as this case exemplifies. So, to answer the question posed in the title to this article, the answer is neither broadly nor narrowly. The way a court will view the petition depends upon the facts of the case, as shown by the contrast here with Medina.
The citation for the First Appellate District Court ruling discussed above is People v. William Roy Boatwright (1st App. Dist., 2019) 36 Cal.App.5th 848.

For more information about resentencing under Prop 64, please click on the following articles:
Contact us.