Is It a Crime to Talk in Court with Someone in Custody?
If one has spent much time in court, one is familiar with how a person in custody will be brought into the courtroom and while being led in by a deputy, the person's eyes will search the courtroom for a family member, girlfriend or boyfriend or anyone who he recognizes. A person in the audience may get eye contact with the person in custody and the deputy may, in observing this, bark "no communicating with anyone in custody!"

The Gist of this Article: California Penal Code § 4570 does make it a misdemeanor someone to communicate, without permission, with someone in custody. If the judge admonishes those in a courtroom not to speak to someone in custody, then permission does not exist. A violation is punishable by up to six months and a $1,000 fine.

The person in custody may say something to the person in the audience nonetheless. It may be a simple "I love you" or "put money on my books, please" or an angry, "tell Joseph he's going to pay for this!"
The judge may observe this going on and order the deputy to escort the audience member outside the courtroom. Other times, the judge may politely state "Ma'am, it is a misdemeanor to communicate with a person in custody while in the courtroom."
Is this true? Isn't there a First Amendment allowing freedom of speech?

The answer is that there still is a First Amendment, but in certain situations, that right is limited and inside a courtroom, as well as in other custody situations, California Penal Code § 4570 indeed makes it a misdemeanor to communicate, without proper permission, with someone in custody.
Penal Code § 4570 reads:
Every person who, without the permission of the warden or other officer in charge of any State prison, or prison road camp, or prison forestry camp, or other prison camp or prison farm or any other place where prisoners of the State prison are located under the custody of prison officials, officers or employees, or any jail, or any county road camp in this State, communicates with any prisoner or person detained therein, or brings therein or takes therefrom any letter, writing, literature, or reading matter to or from any prisoner or person confined therein, is guilty of a misdemeanor.

A misdemeanor is punishable by up to six months in county jail and / or a $1,000 fine, except when provided otherwise.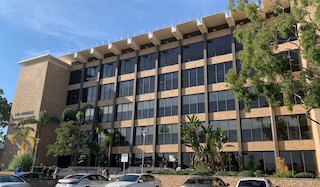 Torrance Courthouse
Communication can include hand signals such as gang signs, holding up a sign or even wearing a shirt or jacket that has an intended message for the person in custody.
The defense to such a charge is lack of evidence, because, quite often, the video of courtroom proceedings is of poor quality. However, if one talks loudly or yells, that may be easier to prove beyond a reasonable doubt.

In our experience, what we find works best for someone who does want to speak with a person in custody is to simply request permission from the bailiff or judge. This approach shows that the person recognizes the court rules and respects the rules enough to work within the rules. This demonstration of earnestness can help persuade a bailiff or the judge to allow a brief conversation with the person in custody, even in the courtroom.
When someone does not request permission to speak with a person in custody in a courtroom, a bailiff may simply take the person into custody. Other times, the bailiff will order the person immediately out of the courtroom.
The last issue that usually arises is what punishment will someone actually receive if prosecuted for such a crime. The answer is that it obviously depends upon how defiant or bold the communication was, if the bailiff or judge warned the person not to communicate before the person in custody entered the courtroom, what was said, if it was gang-related or constituted a threat (which could be separately prosecuted as a criminal threat under Penal Code § 422) and what the person's criminal history is.
We would expect any punishment to include a stay away order from the courtroom for a period of probation, a good "dose" of community service or even Cal-Trans, a court fine (perhaps minimal, i.e. $220 in Los Angeles County) and perhaps anger management classes if the communication involved anger.
The citation for the Fourth Appellate District Court ruling discussed above is People v. Martell Shimon Kidd (4th App. Dist., 2019) 36 Cal.App.5th 12.

For more information about courtroom conduct, please click on the following articles:
Contact us.