Is Consent to a Blood Test Illegal If Jail Threatened?
Attorneys who represent those charged with DUI understand that it is a tough task in California. Judges, prosecutors and the DMV especially often just look at the blood alcohol content (BAC) and decide how the case will resolve. Therefore, creativity is valued, although not often rewarded.
Brief Synopsis: Consent to a blood test if jail is threatened is valid consent if, as the following case describes, defendant freely gives consent and is cooperative throughout. This seems to suggest that if jail is threatened unless one consents, the consent is wrongfully obtained only if defendant shows he felt threatened by police.

As an attorney who has represented hundreds of people accused of DUI, I have realized over the years that DUI is a much more complex area of law than most appreciate, as there are U.S. Supreme Court decisions that can be distilled down for helpful arguments for someone in California. Over the last ten years alone, Bullcoming v. New Mexico (2011) 564 U.S. 647 (chain of custody on blood), Rodriguez v. United States (2015) 575 U.S. ____ (not a DUI case, but ruled that a detention may become prolonged if it exceeds seven to eight minutes) and Missouri v. McNeely (2013) 569 U.S. 141 (a forced blood draw without a warrant may violate the Fourth Amendment) are just three such cases that have been applied in California in various ways, sometimes with success.
Birchfield v. North Dakota (2016) 579 U.S. ___, 136 S. Ct. 2160 is perhaps the latest DUI case addressed by the U.S. Supreme Court to trigger application in California, although not with perfect success, as the following summary explains, but with hope for potential use in the future.
Birchfield considered three consolidated cases, two involving a North Dakota law requiring drunk drivers to submit to warrantless blood tests or face misdemeanor prosecution for the refusing the test and one in Minnesota which requires a breath test and threatens criminal prosecution upon refusal to consent.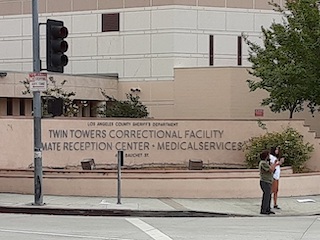 Twin Towers Sign
The U.S. Supreme Court ruled that motorists can not be deemed to have consented to blood tests on pain of committing a criminal offense. Birchfield at 2186. The finding by the lower courts in Birchfield that such motorist had given implied consent, then was erroneous, even as to one arrestee in Birchfield who consented to a blood test.

Therefore, Birchfield is important because it prohibits a court from finding implied consent when an arrestee only choice is to consent to a warrantless blood draw or be prosecuted for refusing to do so. Any consent obtained by law enforcement cannot be deemed valid where the only choice is consent by blood test of be punished criminally.
How this applied, or was sought to be applied here, in California was in a case involving Julio Nzolameso. On a night in 2017, he drove his car into a crowd of pedestrians who were socializing in the parking lot of a club. Nzolameso exited the parking lot, made a right turn into heavy traffic and crashed into a parked car.
He was immediately detained by Los Angeles Police Department officers and taken to a hospital. He was placed under arrest and then the police read him the admonishment DUI attorneys are all-too familiar with here in California.
The admonishment warns the suspect that "Failure to submit to or failure to complete required chemical testing will result in a fine, mandatory imprisonment if convicted of 23152 or 23153, and the suspension of your privilege to operate a motor vehicle for one year."
Nzolameso then informed officers that he wanted a blood test. He also asked for a urine test. At no point did he withdraw his consent.
His BAC was then measured at 0.05%, but using retrograde extrapolation, the prosecution estimated his BAC at the time of driving was 0.16%.

Nzolameso moved to suppress the blood test, relying on Birchfield, saying that his consent was not freely and voluntarily given because he faced criminal penalties if he refused.

The trial court found that Nzolameso freely and voluntarily consented to the blood draw and denied his motion. Nzolameso was then convicted and sentenced to ten years in state prison, consisting of four years for felony DUI causing great bodily injury, plus three years for two people each for the great bodily injury enhancement.

Nzolameso then appealed to the Second Appellate District, which affirmed the trial court (2019 DJDAR 9055), but did so in finding that Nzolameso gave actual and voluntary consent to the blood draw.

This implies quite strongly that in the future, if the consent to such a blood draw is not voluntary and no warrant is obtained, that Birchfield would apply to suppress the blood test results.

The Second Appellate District also stated that it did not need to reach this result by relying on California's implied consent law, although in dicta (meaning it was not what the appellate court ruled was the law), it found that Birchfield "does not prohibit a finding of implied consent under California's former law under these circumstances." It did acknowledge, however, that Nzolameso, like the parties in Birchfield, did face criminal penalties if he refused a breath or blood test, suggesting Birchfield would apply to suppress a compelled blood test here under circumstances where a blood draw was not voluntary and no warrant was obtained, which does happen here in California.
The citation for the Second Appellate District Court ruling discussed above is People v. Julio Nzolameso (2d App. Dist., 2019) 39 Cal.App.5th 1181.

For more information about implied consent, please click on the following articles:
Contact us.